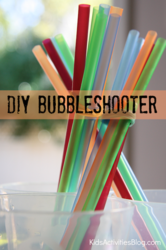 Warm Fall days turn into delightful bubble bursting times for toddlers.
Dallas, TX (PRWEB) September 30, 2012
Research conducted by Kids Activities Blog reveals, that fun bubble games are still among the most popular acitivities for toddlers. Play bubble shooter games outside, and one is still part of the most popular trend for toddler games this fall.
Warm fall days turn into delightful bubble bursting times for the little ones. According to Kids Activities Blog, Moms are blogging this fall about their favorite bubble activities for kids.
If the bubble wands dissapeared during summer, are hiding somewhere in flower beds and under bushes, do not despair. Kids Activities Blog has the solution to the dilemma. Try to make the simple and easy Do-It-Yourself Bubble Shooter game.
To make the homemade bubble shooter, one needs two simple supplies: some straws and rubber bands. Masking tape or sticky tape can be replaced if there are no rubber bands. Mix up some homemade DIY baby bath bubble solution and blow away.
Kids Activities Blog published a list of easy and fun 10 fun bubble games. Games include chasing bubbles with animal movements, singing numbers and reciting the alphabet while busting bubbles.
Other fun ways are popping the bubbles with a fly swatter or learning to blow away bubbles like the wind. Moms are still blogging about their fun bubble games on Kids Activities Blog this fall and choose it as one of their favorite past time activities for toddlers.
No matter how the play bubble shooter game turns out, fun bubble games are still among the most popular games for toddlers among Moms according to Kids Activities Blog. Get inspired before starting to play bubble games with toddlers and add some new tips to fun bubble games.