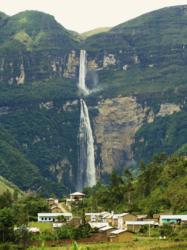 The new tours allow our guests a chance to discover parts of Peru, Ecuador and Panama that aren't on more general tours so that they enjoy a really personal, authentic experience.
Helena, AL (PRWEB) September 26, 2012
From the dizzying heights of the Andes to the fascinating history of the Panama Canal and bird-rich jungles of Peru, International Expeditions' 2013 line up features four engaging new journeys — in-depth adventures that blend colorful cultures with remote wildlife meccas in Ecuador, Northern and Southern Peru, and Panama.
"Each IE journey is carefully planned to let curious, adventurous travelers delve deep into nature, history and culture," said Bill Robison, Director of Program Development. "The new tours we are introducing allow our guests a chance to discover parts of Peru, Ecuador and Panama that aren't on more general tours so that they enjoy a really personal, authentic experience."
Ecuador's Highland & Amazon Rainforest
From lush rainforests to a countryside dappled with the remains of civilizations past, Ecuador offers astounding biodiversity, rich cultural heritage and a distinct wild beauty. Under the care of seasoned naturalist guides, travelers on IE's 10-day Ecuador tours search for a variety of birdlife while exploring three distinct ecosystems. Guests also enjoy time to savor the French-influenced architecture of Cuenca and Colonial charm of Quito, with time to explore the nearby former haunts of the Inca and Cañari. The journey is capped-off with a full-day indulging in the steaming tropical hot springs at Papallacta. Prices for 2013 Ecuador tours start at $4,398.
Northern Peru's Birding Trail
Travelers on IE's Northern Peru tours journey from the Pacific coast through Andean cloud forests and lowland forests while enjoying some of the world's best birding. In the hands of seasoned naturalists, guests search for the sought-after marvelous spatuletail hummingbird during hikes near the Gocta Waterfall and Huembo Reserve and may spot the endangered white-winged guan in the private Chaparrí Nature Reserve. During the journey, guests also encounter one of Latin America's last archaeological frontiers — the ruins of the Moche, Chimú, Lambayeque and Chachapoyan people. Prices for 2013 Northern Peru tours start at $4,998.
Southern Peru & Bolivian Islands
Guests on IE's Southern Peru tours travel through the ancient Inca Empire while exploring Lake Titicaca's Peruvian and Bolivian Islands, watching Andean condors soaring overhead in the Colca Canyon, and delving deep into the Amazon Basin at Tambopata Reserve to spot birdlife, monkeys and more. Travelers enjoy a glimpse of Peru's legendary history during a day excursion on the Island of the Sun in Lake Titicaca, where they drink from a sacred Inca fountain, believed to grant eternal youth and happiness. Highlighting the itinerary are boutique accommodations at the Casa Andina Private Collection properties and the award-winning Inkaterra Reserva Amazonica. Prices for 2013 Southern Peru tours start at $4,498.
Panama
IE's nine-day Panama tours combine local wildlife, cuisine and culture during hikes and water excursions through this country's verdant jungles. Guests tour rainforests that blanket the country from the Pacific to the Caribbean, enjoying a partial passage through the Panama Canal, along with a behind-the-scenes look at the Canal's operation. In addition to excursions guided by Smithsonian researchers on Barro Colorado Island and the Galeta Laboratory, guests travel on the Panama Railroad, which dates back to 1850. Traveling "foodies" will savor an exclusive sunset meal at the International Miraflores Restaurant overlooking the Miraflores Locks — a Fodor's Top 5 Panama dining experience. Prices for 2013 Panama tours start at $3,998.
Celebrating 33 years of nature travel, International Expeditions specializes in small-group journeys to Earth's most exhilarating destinations. A pioneer of environmentally responsible travel, IE is committed to preserving natural habitats and improving the welfare of the people and communities it visits. International Expeditions has been named to Travel + Leisure's list of "World's Best" tour operators & safari outfitters for seven years and to National Geographic ADVENTURE magazine's list of "Best Adventure Travel Companies on Earth."
For more information or a brochure on 2013 journeys, call International Expeditions at 1-800-234-9620 or visit http://www.IEtravel.com.