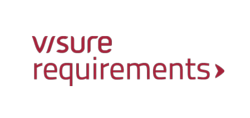 This change is part of a larger rebranding effort to emphasize our commitment to the Requirements Lifecycle Management market
Madrid (PRWEB) September 26, 2012
Visure Solutions, the leading Requirements Lifecycle Management Company, today announced a new name for its flagship Requirements Definition & Management solution: Visure Requirements. The company will begin to use the new name immediately.
"This change is part of a larger rebranding effort to emphasize our commitment to the Requirements Lifecycle Management market," said Joe Cisneros, Visure Solutions CEO. "Also, this new brand highlights the corporate strategy to develop the Company's vision of becoming the world's leading supplier of Requirements Lifecycle Management software. This change will also improve our brand awareness, by unifying the company name and product."
For many years Visure's tools have helped organizations with a portfolio of increasingly complex products, to improve their software and hardware development lifecycle processes. Furthermore, organizations with compliance needs have especially found an enormous value in adopting Visure software to ease the effort of certification. Visure's tools have proven to be successful by providing an added value in highly complex and regulated environments such as Finance & Banking, Aerospace & Defense, Automotive & Transportation, Energy & Utilities, and Telecommunication.
The technological alliances developed by Visure Solutions will help customers in the embedded and enterprise software & hardware development space, ease their compliance with industry standards as well as streamline their development processes to deliver better quality products, as well as reducing their time to market. The alliances include HP Software, LDRA, ALDEC, RiskCAT, Justinmind and The Reuse Company.
Visure Solutions has become the preferred global provider of Requirements Lifecycle Management solutions, and the most powerful alternative to traditional requirements tool vendors, delivering a complete best-in-breed solution.
About Visure Solutions
Visure Solutions is the market leader in Requirements Definition & Management. Through its Requirements Lifecycle Management platform, Visure offers powerful and innovative solutions that enable its customers to develop the highest-quality products, systems and services. Visure Requirements' quality, state-of-the-art features and benefits are endorsed by the world's leading organizations.
Visure's team has a unique and profound experience in the development and implementation of requirements solutions.
Visure Solutions is headquartered in Tres Cantos, Madrid, Spain with branch offices in the United States, United Kingdom, and Germany. Visure has leading distributors worldwide in Austria Benelux, Brazil, Canada, China, France, Italy, India, Mexico, Portugal, and Scandinavia. For more information, please visit http://www.visuresolutions.com.