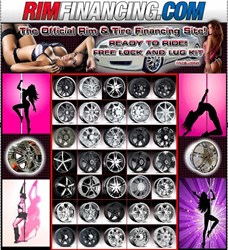 Roanoke, VA (PRWEB) September 28, 2012
Markets everywhere are driven by the tastes of the consumer. Whether it be food, fashion, or even Custom Rims, the ever-changing appetite of the buyer must be appeased, and sellers must adapt to remain on top. Patriot's Custom Wheels is keep up with the changing aftermarket wheel trends with ease, and offer the newest, most popular selection of Black Rims, Chrome and Black rims, Black and Machined rims, and Chrome Rims with Black Accents are available at Rimfinancing.com.
Rimfinancing.com carries one of the largest selection of Black wheels in the country. Top rim brands like Forte, Starr, Avenue, MKW, and Status have expanded their lines to include black rims, and even Off-Road Wheel enthusiasts can get in on the Black action with Gear Alloy and XD rims, both offering black wheel options. Every one of these brands is carried by Rimfinancing.com and they offer the Black Rim & Tire packages with Financing, making buying Custom Black Rims easier than ever before.
Rimfinancing.com is owned by Patriot's Custom Wheels, the original rim finance company. They have been in business for over a decade offering custom rim and tire packages delivered to their customers' door. The rim and tire fitment specialists at rimfinancing.com guide their customers step by step through choosing the right rims and tires for their vehicle and finalizing the rim financing process. The wheels and tires are mounted and balanced with a free locking lug kit.