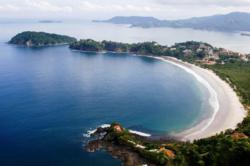 "We facilitate all aspects of our clients' vacation, and have expanded our Guanacaste listings to accommodate this growing tourist demand."
San Jose, Costa Rica (PRWEB) September 26, 2012
One of the world's most celebrated adventure and beach vacation destinations, Costa Rica has enjoyed a steady rise in tourist arrivals since hitting travelers' radars in the early 1990's. Visitors who desire quick access to the country's beautiful north Pacific beaches are in for a treat, as an increasing number of airlines are adding Liberia to their list of sun vacation destinations.
Liberia's Daniel Oduber Quiros Airport (LIR) is northern Costa Rica's international terminal – the gateway to Guanacaste's most stunning beaches including Tamarindo, Flamingo, Papagayo, Playa del Coco and Samara.
According to data provided by the Department of Immigration and released by the Costa Rican Toursim Board,1,285,599 foreign visitors arrived in the first six months of 2012, with a 26% increase in tourist arrivals to Liberia's international airport compared to 2011.
The boost in numbers is attributed to the growing number of airlines that are serving Liberia including WestJet – one of Canada's favorite low-cost carriers. "The addition of these new sun destinations as part of our 2012-2013 winter schedule demonstrates our ongoing strategic focus on expanding our offerings within the popular sun destination market," said John MacLeod, WestJet Vice-President, Alliances, Strategy and Chief Network Officer.
WestJet joins Sun Country Airlines, JetBlue and Frontier, which have also recently added direct flights to Liberia, Costa Rica.
For Allan Flores, Costa Rica's Tourism Minister, these numbers are indicative of the hard work that has gone into attracting new airlines, which results in more available flights to Costa Rica. Earlier this year, the Liberia airport inaugurated a much anticipated $42 million two-level terminal that is capable of handling up to 1,500 travelers an hour. The airport expansion was well-timed, and helped facilitate a 7.3% growth in tourist arrivals during the first half of 2012, as reported by the Costa Rican Tourism Board this September.
Travel and Leisure Magazine recently named Costa Rica's Liberia airport one of the coolest new airport terminals in the world. According to the magazine, the international terminal provides another important convenience: Easier access to the beaches of Tamarindo, the Nicoya Peninsula and national parks.
Along with better infrastructure, the Guanacaste region now boasts an improved selection of accommodations to meet this growing tourist demand. Statistics show that a rising number of holiday-goers are choosing vacation rentals in lieu of hotels on the basis of value and comfort. A 2012 TripAdvisor survey revealed that 46% of travelers polled are planning a vacation rental stay this year. For Escape Villas – a respected Costa Rica vacation rental operator – this is welcome news.
When asked how the company plans to facilitate such demand, spokesperson Sara Hopkins explained "Escape Villas has over ten years of experience specializing in the interactive marketing of luxury vacation rentals in Costa Rica, and we're currently expanding our listings in the Guanacaste area." The company offers beach and condo rentals in Tamarindo, Papagayo and Flamingo – three of the area's most popular spots. With more than a decade of expertise, Escape Villas features a dedicated staff and a close relationship with local tour operators – a great advantage for accommodating guests' needs.
More accessible than ever, the north Pacific beaches are renowned for their white-sand shores and myriad adventure opportunities, which attract thousands of tourists each year. A growing number of families are seeking exclusivity and privacy for their loved ones and friends in the comfort of a vacation rental. Hopkins adds "with so many rental options and destinations to choose from, we take the headache out of selecting the villa rental that meets a family's requirements. Guests have professional staff at their disposition with all the conveniences of a home."
Chef services, restaurant suggestions and private transport are added perks of an Escape Villas vacation rental. Travelers can expect more beach time when flying into Liberia versus San Jose, as most of their Guanacaste rental properties are within an hour's drive of the airport. Nearly 30 airlines currently service Liberia, and many feature direct flights from major cities such as Atlanta, Dallas, Denver, Miami, Minneapolis, New York, Houston and Toronto among others.