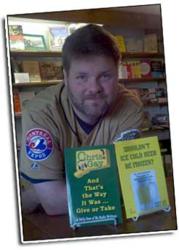 Los Angeles, CA (PRWEB) September 26, 2012
What if a late 20th Century Jack the Ripper tearing apart a small Connecticut town was the result of a coffee shop bet between God and the devil? Imagine if Satan's future ability to impact the world hinged entirely on one young detective hunting down a ruthless killer-hiding in plain sight. Detective Danny Seabrook is an unwitting pawn in a divine chess match with immeasurable consequences for all mankind. Set primarily in 1995, this action packed suspense thriller features clever dialogue, humor, romance…and an ending that has to be read to be believed.
Chris Gay is a freelance writer, author, voice-over artist, broadcaster & actor. He writes and broadcasts a daily, sponsored, minute radio humor spot in Hartford, Connecticut. He's written two humor books; "Shouldn't Ice Cold Beer Be Frozen? My 365 Random Thoughts To Improve Your Life Not One Iota", as well as, "And That's the Way It Was…Give or Take: A Daily Dose of My Radio Writings". He has just finished his paranormal, theological suspense novel "Ghost of a Chance", which will be released in 2013. Also in 2013, he will release his third and fourth humor books, "The Bachelor Cookbook" and "Another Round of Ice Cold Beer: 365 More of My Random Thoughts That Still Won't Improve Your Life One Iota". Chris has written and voiced various radio commercials, authored both comedic and non-comedic freelance articles, scripts, press releases, and website content, done occasional radio color commentary for local sports, and acted in a couple of movies and plays. He's currently the Media and Technical Writer/Ghostwriter for national clothing company KSpin Designs. In partnership with KSpin Designs, Chris has written "Suesea Sunscreen and the Big Lesson" for the benefit of teaching melanoma and skin cancer awareness. That book is tentatively scheduled for release in 2013. Future projects include "Perdition's Wrath", the sequel to "Ghost of a Chance". He is also the Publicity Co-Chairman for the Connecticut Authors and Publishers Association. (CAPA) He can be contacted through his website, chrisjgay.com. His humor blog, The Passion of the Chris, is found at chrisgay.wordpress.com.