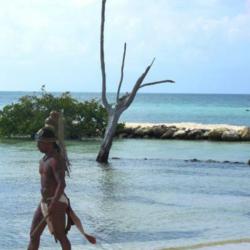 *The 2nd Mayan-Tibetan Bicultural Encounter concluded activities in the environmentally friendly Hacienda Tres Ríos Resort, Spa & Nature Park
Cancún, Quintana Roo (PRWEB) September 27, 2012
In a call for peace, harmony and freedom for all people, the Tibetan Monks of the Drepung Loseling Monastery as well as Mayan representatives concluded their participation in the 2nd Mayan-Tibetan Bicultural Encounter, held at Hacienda Tres Ríos Resort, Spa & Nature Park.
In the presence of a number of tourists, special guests and those who enjoy these two cultures, the Tibetan monks destroyed the Tara Blanca Mandala, which was crafted during the five days of the encounter. This action was carried out as the final activity of the encounter to symbolize the transitory nature of life.
Deputy Vice President of Sales and Marketing of Hacienda Tres Ríos, Daniel Arroyo emphasized that the encounter met with all expectations to transmit a message of peace and respect of nature that is so lacking in our world today.
Arroyo also disclosed that because of the success of the second edition of event, there will be a third bicultural encounter in September 2013. The program will include more conferences, meditations and teachings that are sure to fill participants with good vibes and positive thoughts.
From September 12 to 16, the 2nd Mayan-Tibetan Bicultural Encounter brought together a group of nine Tibetan monks, Mayan dancers and representatives, the founder of Casa Tibet, Tony Karam, as well as a number of researchers and speakers of both cultures, who spoke on the principle teachings and philosophies of these two incredible civilizations.
The encounter included a presentation of Sacred Mayan and Tibetan Music and Dance in the Teatro de Cancún, as well as a photo exhibit, rituals and healing and meditation ceremonies (both group and individual). There were also meditations involving positive energy and the search for peace and harmony through ancient techniques.
As part of the closing activities of the encounter, Tony Karam, founder of Casa Tibet, presented a conference on Buddhism which covered relaxation and meditation techniques, as well as the principle doctrines of this religion.
Daniel Arroyo thanked the Tibetan monks, Mary Coba of Producciones Arte Maya, as well as the hotel collaborators who helped make this event a total success, accomplishing the objective of sending a message of love and hope to all of humanity.