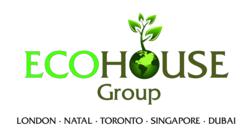 Brazil is the world's most exciting investment market today
Mississauga, ON (PRWEB) September 26, 2012
EcoHouse Developments hosted the Calgary Investor Forum on September 8th 2012 as the Platinum sponsor at the Telus Convention Centre. Over 120 delegates were present for the one day event and they all received a great deal of knowledge and experience from the various professionals and organizations in attendance. Topics of discussion at the event included: buying the first investment property, structuring finance for investment properties, marketing for joint ventures, investing in the US, and investing in Brazil's booming property market.
EcoHouse's CEO - Anthony Armstrong-Emery and North American COO – Deen Bissessar, took the main stage for the Brazil presentation and delivered informative and valuable information on the state of the Brazilian economy, the many reasons for the sustained economic growth, the issues presently facing the country and the solution to the country's vast housing shortage. Further, Mr. Armstrong-Emery enlightened and dazzled the audience with the combined history, background, present accomplishments and future vision of the EcoHouse Group of companies. The duo also showed the many Canadian investors in attendance the EcoHouse Developments model for purchasing and building a highly profitable "Minha Casa, Minha Vida" (My House, My Life) property in Brazil and went on to speak about a new vehicle to investing into EcoHouse's Brazil properties, which allows the investor to receive the same security and a monthly cash flow. All of the information delivered was very well received and appreciated.
Much networking and conversation ensued post presentation and as a result, EcoHouse Developments is looking forward to establishing agency relationships with several groups and individuals throughout the province of Alberta. These private agents will further educate and expose the Canadian populace on the investment options Brazil has to offer. In addition, many of the forums delegates expressed strong interest in working along with EcoHouse to achieve its goal of Building a Better Brazil.
The EcoHouse Group will be present as Platinum Sponsors at the upcoming Vancouver Investor Forum on November 17th & 18th 2012 at the Vancouver Convention Centre. They will be taking the stage to impart their knowledge of Brazil and the expose the residents of British Columbia to the possibilities for investment into what many are calling; the world's most exciting investment market today. Brazil.
For further information on the EcoHouse Group please contact:
Deen Bissessar - Chief Operations Officer (North America)
deen (at) ecohousetoronto.com
Jim Page - Business Development Director (North America)
jim.page (at) ecohousetoronto.com
Website: http://www.ecohousedevelopments.com