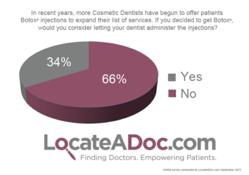 Orlando, Florida (PRWEB) September 27, 2012
Botox® is one of the most popular minimally-invasive procedures offered at plastic and cosmetic surgery centers around the country, and many practices now offer membership programs and discounts for their regular customers. Now, dentists and other medical professionals can be trained to administer Botox® at their practice, making it easier than ever for patients to get the injectables they want.
Results of a recent LocateADoc.com survey found that more than 34% of those surveyed would be comfortable getting Botox from their dentist. Just under 66% voted 'no'.
In recent years, more Cosmetic Dentists have been expanding their menu of offerings in hopes of attracting more patients and boosting business. Botox® usage by dentists has stirred some controversy as some people – including the Academy of General Dentistry (AGD) – are questioning whether dentists should be allowed to administer Botox® purely for cosmetic purposes.
Interestingly, Botox® is already administered at many dental offices around the country – just not for wrinkles. In the December 2008 issue of AGD Impact, the official newsmagazine of the Academy of General Dentistry, state dental boards nationwide have approved the therapeutic use of Botox to treat dental problems within the dental office setting and conditions like temporomandibular disorder (TMD). However, results of a survey conducted by the AGD Governmental Regulations Department found that state dental boards are split on whether to regulate Botox usage for treatments and cosmetic purposes.
About LocateADoc.com
LocateADoc.com is a premier online physician directory connecting you with more than 150,000 doctors in specialties such as Cosmetic and Plastic Surgery, Bariatric, IVF, Hair Restoration, LASIK, Medical Spas, Anti-Aging and Cosmetic Dentistry.
Since its 1998 inception, LocateADoc.com's objective has been and always will be to help patients easily find a local doctor they can trust. In addition, we are proud to provide you with the support you need to make the right decision for your elective procedure/treatment needs, through our patient education pages.
To get a better understanding of these distinguished surgeons, doctors, dentists, and medical specialists and a trust in their expertise, LocateADoc.com also provides patients with a firsthand look at their work. We are proud to share with you one of the largest before and after picture galleries on the web. LocateADoc.com features 60,000+ before and after photos of happy patients. LocateADoc.com is a service of the PracticeDock.com Online Marketing Suite.