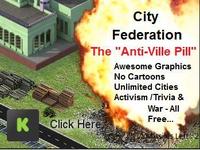 City Federation has been called the 'Anti-Ville Pill' by Beta testers due to our no cartoon policy and realistic graphics not seen in other social games
Brooklyn, New York (PRWEB) September 26, 2012
City Federation today re-launched their Kickstarter Campaign (link) to get the game out of Beta release and completed within 2 months. The game boasts killer graphics for buildings and cities that are not seen in any other social city building game currently on Facebook.
Beta testers have been calling City Federation the 'Anti-Ville Pill' all over the game and message boards. Players and testers were impressed with the game graphics compared to larger competitors with social games currently on Facebook such as Zynga and EA Games. City Federation looks to make a splash in the coming weeks using their more realistic graphics up against the competition.
Michael Lodispoto and some of the staff and designers will be on hand at the Dumbo Arts Festival taking place this weekend located at the Brooklyn Bridge Park and surrounding neighborhood called D.U.M.B.O. (Down Under the Manhattan Bridge Overpass) Brooklyn.
"We've got a great game that we've nearly finished after 16 months of obsessive gamer input coupled with the best designers and programmers available," said Mr. Lodispoto.
"With the support of a loyal community of Kickstarter members, our new K Council will be a revolution in social gaming. City Federation will be the first of its kind to be run, guided and expanded by the first players to come into the game over the next 30 days via Kickstarter (link) . We are going to give all who contribute to our campaign direct voting on future features, total input with designers and staff" Mr. Lodispoto added.
City Federation is currently playable on the website cityfederation.com as well as on Facebook.
City Federation Inc. is a 16 month old gaming company created in Brooklyn N.Y. 16 months ago. The company was founded with the intent on creating realistic looking graphics and social interaction in gaming. While at the same time rejecting the cartoon game format that currently dominates on the internet. The City Federation city building war and strategy game has community activism, war, blackmail, empire building and trivia and is the first offering by City Federation Inc. A second game which has a space colony theme is in production and is to be completed within 6 months.
Zynga and EA Games are trademarks of their respective companies and no implied ownership is made. References to these companies are made to show the dominant gaming companies in social gaming