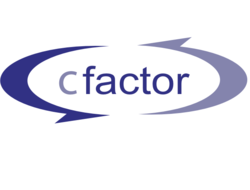 Whether it's through our products, our client success team, or any area of our company, cfactor is truly committed to helping its clients soar in the market.
Saskatoon, SK, Canada (PRWEB) September 26, 2012
cfactor Works Inc. (cfactor), a leading developer of socially infused Human Resource technologies, today announced that it will be launching exciting new enhancements to its Preboarding / Onboarding solution at the 15th Annual HR Technology Conference & Expo October 8-10 in Chicago. To celebrate the launch, cfactor is giving away a $1,000 (one thousand dollar) flight voucher to one lucky conference attendee.
cfactor Preboarding & Onboarding offers clients unparalleled integration flexibility with existing systems and business processes, while delivering powerful social tools that are embedded every step of the way. Key benefits include:

Create the desired "first impression",
Ease employee socialization into the organization,
Accelerate new hire time-to-productivity.
Exposition visitors are encouraged to visit cfactor's booth (772) onsite for more details about onboarding employees using Preboarding & Onboarding and other game-changing HR solutions from cfactor.
"cfactor is passionate about helping HR tech professionals and their HR systems initiatives take flight," said Cary Schuler, CEO of cfactor. "Whether it's through our products, our client success team, or any area of our company, cfactor is truly committed to helping its clients soar in the market. Moreover, this giveaway will provide a fun, engaging way to highlight a whole new meaning to the word Preboarding. And what better place to do that than at HR Tech?"
"In our 15th year, the HR Technology® Conference is indisputably the best and largest in the world," says Co-Chair Bill Kutik, technology columnist for producer Human Resource Executive®, "because our exclusive focus is on helping senior HR executives and other professionals learn how to get the business benefits out of technology."
cfactor's current suite of products bring a highly configurable and socially infused approach to workforce management, keeping things unified, user-friendly and simple. In-depth demonstrations of cfactor's products & services will be offered to all visiting members of the press and attendees.
Since its inception, cfactor has been recognized by organizations like Ernst & Young, the Canadian Innovation Exchange and the Business Development Bank of Canada for its game-changing workforce management technologies. Working primarily with mid-to-large enterprises that represent hundreds of thousands of employees across a variety of industries, cfactor consistently delivers products that are highly configurable, while driving a proven ROI.
About cfactor Works Inc. (cfactor)
For more than a decade, cfactor has been delivering agile workforce management solutions, providing collaboration, engagement and productivity tools for hundreds of thousands of employees. cfactor passionately supports the unique needs of its customers, and delivers engaging, socially infused employee experiences. cfactor implements quickly and cost-effectively by unifying existing systems then layering in cfactor's leading, employee-centric HR products according to each customer's evolving business needs.
# # #