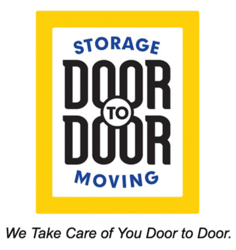 Today's companies are searching for the best qualified talent and are finding a workforce that is highly mobile.
Kent, WA (PRWEB) September 27, 2012
Door to Door Storage, Inc. will participate as an exhibitor at the Worldwide ERC® Global Workforce Symposium. Taking place October 3-5, 2012, the conference sessions and exhibits will be located at the Marriott Wardman Park Hotel, in Washington, D.C. The annual conference is a premier event for corporate and government HR and employee mobility professionals and provides an opportunity to find products and services for the improvement of workforce mobility programs and related administration.
Door to Door Storage® is a member of the Worldwide ERC® (Employee Relocation Council), the workforce mobility association for professionals who oversee, manage, or support U.S. domestic and international employee transfers. ERC members alone spend $9.3 billion dollars annually in the U.S. on corporate relocation (footnote 1). Door to Door™ partners with companies and individuals to make these moves as easy and stress-free as possible.
"Today's companies are searching for the best qualified talent and are finding a workforce that is highly mobile. We provide a perfect solution to meet the varied budget needs of your employees, all the while delivering exceptional customer service," said Tracey Kelly, Senior Vice President of Sales and Marketing for Door to Door Storage. "In fact more than 30 percent of the moves made by our customers are a result of job relocations."
Door to Door moving and storage services help businesses transfer employees to new job locations quickly and efficiently. The company offers a comprehensive service offering for moves—big or small—with lump-sum moving packages and fixed pricing.
Revolutionizing the self-storage industry in 1996 with the introduction of portable storage, Door to Door has helped thousands of individuals and families across the country manage life transitions that can include job relocations, staging/selling a home, remodeling, military moving/storage, or going away to school.
Door to Door makes moving and storage easier with a host of customer-friendly online resources that include capabilities to book moving and storage services online, sign-up for Door to Door's best-in-class customer protection plan (CPP), and make payments by using either a computer or mobile device. Door to Door's blog along with its Facebook page provide helpful moving tips, links to lifestyle topics related to the storage and moving experience plus announcements, photos, videos, special promotions and incentives. The customer service call center is conveniently open seven days a week.
Exhibiting at the fall ERC® conference for the third consecutive year, Door to Door can be found at Booth #521. Corporate representatives from the portable storage company attending the conference will include: Paul Reed, President and CEO; Tracey Kelly, Senior Vice President of Sales and Marketing; Jim Wusterbarth, Vice President of Operations; and Ted Cummings, Vice President of New Channel Development.
"We are looking forward to the ERC® conference in Washington D.C. and invite attendees to visit us at Booth #521. With more than sixty locations to serve our customers, we are confident that Door to Door can develop a program to assist ERC attendees with their employee relocation needs," said Kelly.
Footnote 1: http://www.worldwideerc.org/Resources/Research/Pages/Facts-and-Statistics.aspx
About Door to Door Storage, Inc.
Since 1996, Door to Door Storage, Inc. has helped people across the nation with their moving and storage needs. An industry pioneer, Door to Door was the first portable storage and moving company to provide customers with a convenient, secure and cost-effective alternative to traditional self-storage and household moving. Using an environmentally-friendly container design, Door to Door provides customers with a personalized experience for temporary or long-term moves.
Door to Door operates storage centers in more than 61 U.S. metropolitan markets and offers moving services in 34 states. The corporate headquarters is located in Kent, Washington. For more information, visit the company website at http://www.doortodoor.com.