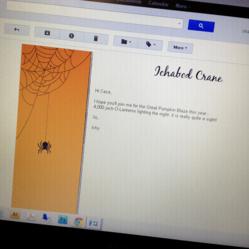 New York, NY (PRWEB) September 27, 2012
MeebleMail (http://www.meeblemail.com), the website that enables consumers to transform their email into stylish personalized stationery, is helping everyone add that Halloween spirit to their email with the debut of a Halloween collection of email stationery. Whether sending invitations, thank you notes, or just adding Halloween spirit to everyday emails, MeebleMail.com has a wide variety of Halloween themed email stationery.
According to the National Retail Federation, More Americans than ever will be in the haunting mood this year, with seven in 10 celebrating Halloween, the most in NRF's 10-year survey history. On average, celebrants are expected to spend almost $80 on decorations, costumes and candy as total spending on the holiday is expected to reach $8 billion.
To help ease the pain on American's pocket this year, MeebleMail is offering all Halloween email stationery at no charge, The email stationery can be used for thank you notes, online invitations or to simply add some Halloween spirit to emails – just enter code SPOOKME in the promo code box at checkout.
To view the entire collection of Halloween email stationery, click here and when checking out, don't forget to enter SPOOKME in the Promo Code box.