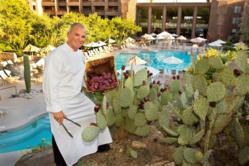 (PRWEB) September 28, 2012
Guests may know Loews Ventana Canyon for its golf courses, its adaptation to nature and its scenic vistas amidst comfortable luxury, but for the hotel's executive chef, Ken Harvey, the property is a desert garden ripe with fresh, uniquely local ingredients to inspire creative recipes.
Every fall, armed with kitchen tongs, Harvey and the culinary team scour the Loews Ventana Canyon property to harvest the deep purple prickly pear at its peak of ripeness. With more than 350 prickly pear plants yielding approximately 250 pounds of the sweet fruit on the property, Harvey can delight guests for weeks with prickly pear dishes including salads and popsicles, and beverages such as prickly pear margaritas and ice teas.
"The 100 acres of property we have here at Loews Ventana Canyon really serves as a culinary inspiration for me," said Harvey. "From the native plants like prickly pear that I incorporate into dishes, to the colors and textures of our natural surroundings that are so unique to this part of the country, I'm constantly finding new ways to interpret Southwestern cuisine."
The fall harvest represents just one season of garden-fresh options at Loews Ventana Canyon. In the summer, Harvey also harvests mesquite and grinds it into flour for breads and other dishes.
Try whipping up a cool and refreshing take on prickly pear at home with Loews Ventana Canyon's own Prickly Pear Margarita recipe from Chef Harvey:
Prickly Pear Margarita
1 ounces freshly-squeezed Lime Juice
2 ounces Tequila
1 1/2 ounces Triple Sec
1 ounce prickly pear cactus juice
1 tablespoon agave syrup
Stirred not shaken!
Pour over a salted rim of a 1/2 cup crushed ice
Loews Ventana Canyon
Named the "First Environmentally Conceived Resort" by Architectural Digest in 1981, the resort was constructed into the foothills of the Santa Catalina Mountains with the mindset of preserving the natural habitat. The ½ mile Window Walk nature trail, designed by the Arizona Sonora Desert Museum, features over 200 signs to educate guests on the flora and fauna of the Sonoran Desert. In addition, the resort features complimentary stargazing on Wednesday and Saturday nights led by a professional astronomer with the resort's high-powered telescope.
Located at 7000 North Resort Drive, the 398-guestroom Loews Ventana Canyon Resort features two Tom Fazio-designed PGA golf courses, kid's camp, a full-service spa and fitness center and nearby hiking trails. For more information, visit http://www.loewshotels.com/ventana or call 800-234-5117 for reservations.
About Loews Hotels & Resorts
Headquartered in New York City, Loews Hotels & Resorts owns and/or operates 18 hotels and resorts in the U.S. and Canada including the Loews Hollywood Hotel located adjacent to the Hollywood & Highland Center. The hotel features 632 guestrooms, including 113 suites and over 120,000-square-feet of meeting space. Located in major city centers and resort destinations in North America from coast to coast, the Loews portfolio features one-of-a-kind properties that go beyond Four Diamond standards to delight guests with a supremely comfortable, uniquely local and vibrant travel experience. For reservations or more information about Loews Hotels & Resorts, call 1-800-23-LOEWS or visit: http://www.loewshotels.com.
Like Loews Hotels & Resorts on Facebook: http://www.facebook.com/LoewsHotels
Follow Loews Hotels & Resorts on Twitter: http://www.twitter.com/loews_hotels
Watch Loews Hotels & Resorts on YouTube: http://www.youtube.com/LoewsHotels
Media Contact:
Christina VerHeul
cverheul (at) loewshotels (dot) com
(615) 312-1945