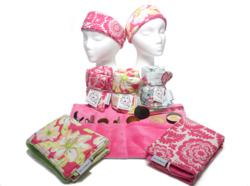 Seattle, WA (PRWEB) September 26, 2012
Organizing makeup, skin care, nail and hair products, and travel toiletries is always a challenge whether at home or traveling. The innovative, multifunctional, and stylish Make-Up-Matte™ and BeautyBand headband Sets have solved these challenges for busy women on-the-go.
The Sets consist of one Make-Up-Matte™ which not only provides a clean work space to use cosmetics, but also absorbs excess particles and enables a quick, efficient cleanup. A series of interior pockets store brushes and other cosmetic items keeping everything organized. When rolled and secured with the handy elastic, the Make-Up-Matte™ tucks easily inside a purse, gym bag or suitcase. Also included in the Set is the BeautyBand headband by MUM. BeautyBands keep hair back when washing the face or applying makeup. They are also versatile enough to wear out and about thanks to the chic fabric designs.
Both the Make-Up-Matte's and BeautyBands feature a beautiful variety of cotton fabric designs combined with luxuriously soft microfiber. The Sets make ideal holiday gifts for friends and family, are machine washable for easy-care convenience, and made in the USA.
Set Price: $29.95
http://www.makeupmatte.com