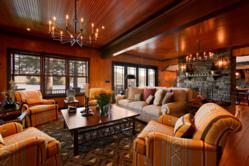 The more variety to your lighting design, the more successful the result.
SHORT HILLS, NJ (PRWEB) September 27, 2012
If there's one element of design that home-owners think about the least but affects their space the most, it's lighting. Whether you're building a new home or renovating an old one, redoing your entire space or just one room, how the lighting is planned can make a vital difference.
For those looking to make the most dramatic improvement in their space for the least expense, the two most important changes to make are color and light—painting the walls and creating a well-thought out lighting design. Many home-owners think of painting, but far fewer realize the great improvement that can be achieved by a well-thought out and diverse lighting design.
"My clients are always concerned with the colors of a design, but it is the interplay between color and light that defines your perceptions. The level of intensity, quality and direction of light hugely affects those perceptions," said Catherine Engelmeyer of Belle Maison interior design.
"There are many different types of lighting, and not every room will use them all, but in general the more variety to your lighting design, the more successful the result," said Engelmeyer.
•Chandeliers are bold statement makers. They anchor a room, often emphasizing high ceilings and focusing attention on a room's dominant element, as in a dining room table. Recessed lights generally provide fill light, though they can also be task-oriented, to provide light over a desk, say. All lights should be dimmable, but for recessed lights this is a necessity, so that a general level of light can wash a room to the right intensity without glare. Track lights focus light on specific areas of a room, as in artwork on walls.
•Shaded lamps provide accent lighting. The light is reflective, softer and more mood-oriented. In choosing lamps, the choice of shade is important. Shades can be made of fabric, paper or metal, with greater or lesser opacity. And the color, texture and size of the lamp base significantly impact the overall room design.
•Sconces provide symmetry and balance to a design, astride a fireplace or in a hallway, as well as providing a counterpoint on the wall to hanging chandeliers.
Perhaps the most important consideration in lighting design is color palette, specifically the wall and ceiling colors of a room. Dark colors absorb light and lighter colors reflect it, so the darker your room, the more light you'll need.
"I can't overemphasize the importance of a mix of light sources. Light from a variety of sources and levels of intensity enhances the colors and textures of a design. All light is not created equal. Even the color of lighting varies. Cold blue light may be brighter, but soft, golden light is warmer and more welcoming, said Engelmeyer."
For more great tips and ideas to create your ideal dream home please visit http://www.bellemaisoninc.com/
About Belle Maison:
For over twenty years, Belle Maison founder Catherine Engelmeyer has created interiors with an aura of elegance. Blissfully comfortable, impeccably tailored and beautifully functional, they feature compositions of color, fabric and furnishings that delight both the senses and the soul. Catherine's French heritage inspires her work without limiting her options—a complete mastery of the decorative arts combines with a highly developed sense of empathy to create inspired solutions for discerning clients. Belle Maison has been featured in The Wall Street Journal, House Smarts TV, New York Spaces, Profiles NJ, New Jersey Monthly, and Design NJ.