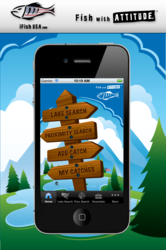 It even has a Glove Box to store your fishing license
(PRWEB) September 26, 2012
Knowing When, Where & How to fish in America just got easier. "This app puts a wealth of knowledge and tools at your fingertips," said Randy Chamzuk, President of The App Door. "There's something for anglers of all ages and skill levels."
The app's simple interface allows users to easily search for lakes by name or via proximity search. Once a lake is selected, a range of information is readily available including; fish species, directions, weather conditions, even a calendar for the best times to fish. Where available, it includes lake contour maps, local visitor information and nearby photos.
"It's great when you can find nearby lake locations around a town or place your planning on visiting, then get all the details on it," said Chamzuk.
The live lake reports give fishermen an idea of what's happening at a location and allows users to review and mark favorite fishing HotSpots, share catches in the fish log and it even has a Glove Box to store fishing licenses or boat insurance.
Future versions are already in development and will include coastal waters and an abundance of saltwater fishing information as well as an Android version.
"We're also releasing individual state apps for those who usually fish locally. iFish Texas is already available and getting great downloads." Chamzuk concludes, "this is the most advanced fishing app available on the market."
Visit http://www.iFishUSA.com for more information or http://www.AppsForAnglers.com to view the entire iFish series of apps.