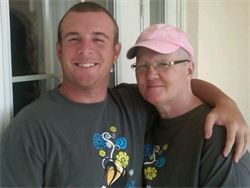 Miami, Florida (PRWEB) September 27, 2012
The pain and repercussions of Melanoma can affect any family at any time. One such example is that of David Henry of Iowa and his mother, Chris.
In 2008, Chris was diagnosed with Stage IV Malignant Melanoma. Not wanting her affliction to short circuit the college football dreams of her then-21 year old son, they and their family moved to central Florida.
When numerous concussions ended his football dream David moved on to golf, a sport he was very proficient at, and also one with a long and cherished history within his family.
In a further attempt to make a career out of his passion, he attended the Professional Golfer's Career College. Unfortunately it was during this time that his mother's condition significantly worsened and David spent much of his time by her side.
Even through the adversity the family was facing, David managed to graduate from the PGCC with honors while also receiving their Perseverance Award. Although he was now a golf professional, his focus was split between his new career and his mother's cancer. To her credit, however, Chris refused to let her circumstance derail her son's dream and remained vehemently supportive of him.
To compound matters a few years later David himself was diagnosed with Melanoma and had no less than eight malignancies removed, while simultaneously watching his mother deteriorate from a much more advanced state of the disease.
Now in 2012, David is coping with his situation and putting his energies into getting ready for the Fore the Players Winter Tour Series in Orlando. That event is a set of tournaments designed to prepare players for the 2013 PGA Qualifying Tournament which, if successful, would allow them to participate in PGA tours. He has both the ability and the desire, but now requires the financial backing to not only make his golf dream come to fruition, but also his dream of defeating Melanoma.
David has chosen to intertwine Melanoma Awareness and support for the Melanoma Research Foundation with his golfing career. He's made this decision not only for the benefit of his mom, but for the millions of others who have fought this atrocious battle. He's doing it to honor the memories of those we have lost, and for the support and hope of those who are still fighting valiantly.
Helping to support David will benefit many, in addition to bringing us all closer to the day when curing Melanoma is no longer the dream…but the reality.