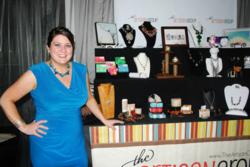 Our members' creativity and dedication to quality shines through. Hollywood loves out-of-the-ordinary, high-end handcrafted products, so it's a perfect fit.
Sunnyvale, CA (PRWEB) September 27, 2012
In what has become an anticipated highlight of GBK's Primetime Emmys Gifting Suite, celebrities and press stopping by The Artisan Group (http://www.theartisangroup.org) display were treated to the best in handcrafted. They took home swag bags brimming with artisan goods from jewelry to spa products to stationery to couture pet clothing—all created by independent artisans working in the United States and internationally. The Gifting Suite took place September 21-22 at the W Hotel in Hollywood.
The Artisan Group has become a popular destination for celebrities and the press at GBK's award show gift lounges. "Our members' creativity and dedication to quality shines through," said The Artisan Group Founder Valerie Guerrero. "Hollywood loves out-of-the-ordinary, high-end handcrafted products, so it's a perfect fit."
Celebrities stopping by The Artisan Group display at the Primetime Emmys Gifting Suite included Eion Baily, Camille Grammer, Tony Hale, Jason Ritter, Aaron Staton, Ed Weeks, Tamala Jones and Stacy Tookey.
Kate Flannery of "The Office," was gifted earlier in the year at GBK's Oscars Gift Lounge and is a fan of The Artisan Group. During a visit with Guerrero on Saturday at the Primetime Emmys Gift Lounge, she said, "You know, I have to tell you, I was absolutely overwhelmed with the amazing quality of gifts I received in your gift bag. Every single gift I unwrapped from your bag was truly incredible. Everything was so nicely packaged, and I enjoyed everything so much. You have some talented members in your group."
The Artisan Group also gifted GBK's 2012 charity beneficiaries, The Dream Center, Best Friends Animal Society and Somaly Mam Foundation.
Photos of the display pieces and contact information for all participants is available in The Artisan Group's Official "Primetime Emmys Event Guide."
Participating members in GBK's Primetime Emmys Gift Lounge event include Britt Baker, Ideology; Jennifer Brown, Pieceful Design; Kim Brown, Chloe & Maddie; Marie Caloggero,Wee Bindery; Kirah Campbell, A Pretty Shoppe; Deborah Carducci, Villa Lusso; Sandy and Stevie D'Andrea, Jewels For Hope; Andie Dietz, Java Jane Designs; Beth Engel, Paper Angels Photography; Sandra Geiss, SilverSchells Jewelry Designs; Megan Goldkamp, Megan Goldkamp Jewelry; Ann Gore, Boho-Mojo; Valerie Guerrero, BeezKneez Designs; Susan Harbourt, Susan Harbourt Designs; Angie Howard, Angie's Jewelry Design; Katie Hughes, Vintage Rose Wraps; Anne Jansen, SureShot Jewelry; Colleen Johnson, 2 Sisters Handcrafted; Jill Jones, Bidwell Botanicals; Fen Li, Bead Flora and Jewels; Maggie Mahboubian, Lalun Seasonal Skincare; Mouna Marini, Beads of Aquarius Art Jewelry; Betty Miller, Magic Senses; Diane Miller, The Shutterbug Eye; Sandra Morrow, Thistle Delight Soapworks; Linda Pizanti, ImaGemation; Tenisha Proctor, Designs By Tenisha; Jennifer Racette, Alison Julien Collection; Lisa Smith, LKS Originals; Katherine Song, Katherine Song Originals; Kimberly Spector, Nair & Bjorn; Shawn Sullentrup, good. clean. soap.; Jessica Taylor, Shaka Soap; Julie Ter Borg, Julie Ellyn Designs; Heather Duby-Tharpe, Beadz and Bloomz; Vicky Topp, Krystal Energy; Maleah Torney, Maleah Torney Photography; Wendy Woodall, Stringing Along; Shawna Ziemer, Wags and Wiggles.
To learn more about The Artisan Group and its upcoming celebrity events visit the website, follow the Group on Facebook and Twitter and subscribe to its blog. Selected products are available to view on The Artisan Group's Pinterest boards. Direct press inquiries to press(at)theartisangroup(dot)org.
ABOUT THE ARTISAN GROUP
The Artisan Group (http://www.theartisangroup.org) is an art promotions group representing talented artisans at Hollywood's best celebrity gift lounges. It provides a sampling of handcrafted products to celebrities and members of the press at major award show gift lounges such as those leading up to The Academy Awards, The Golden Globes, The MTV Movie Awards and The Primetime Emmys. Membership in the Artisan Group is juried and by invitation only. Members showcase a broad range of specialties including jewelry; spa and bath products; designer stationery and paper goods; crocheted apparel; children's clothing; accessories and toys; ceramics; purses and totes; hand-poured candles; book binding and journals; illustrations and paintings; hand-dyed scarves; fine art photography; hair accessories; pet apparel and toys; woodworking products and more. The Artisan Group also offers its members guidance in the areas of sales, marketing, social media and public relations.
The Artisan Group is in no way associated with MTV, The Academy of Motion Picture Arts and Sciences, The Hollywood Foreign Press Association or The Academy of Television Arts and Sciences.