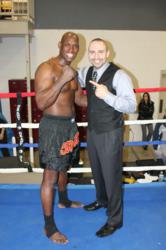 I remember watching Ed fight out in Pennsylvania in the 90's and predicting he was going to be a force to be reckoned with.
Lockport, NY (PRWEB) September 28, 2012
For over a decade Burris has made his mark in the professional Kickboxing circuit having held the highest percentage of knockouts amongst any heavyweight. Burris recently met with Lace Up Promotions CEO Amer Abdallah and decided he was joining the company's stable of athletes.
"I remember watching Ed fight out in Pennsylvania in the 90's and predicting he was going to be a force to be reckoned with" Lace Up CEO Amer Abdallah stated. "It's time we begin getting Ed the opportunities he's earned and take all the red tape out of his career. I want him focused on training, period."
Burris was born and raised in Syracuse NY which he considers to always be his home no matter where he ends up. He started his martial training at the young age of 6 taking a Japanese style of martial arts called Ninjitsu, then dabbled in JKD and evolving to Philipino martial arts and Silat. He also studied Kuntao and eventually began fighting full contact Muay Thai and Kickboxing in the early 90's. Since then it has been a flawless career filled with much success and victory.
Burris and Abdallah fought together on several events having created their history and camaraderie as stable mates first. Under Abdallah's promotions company, Burris captured the ISKA North American Super Heavyweight crown and was regarded as one of the world's top heavyweights. In 2007, Burris made a career change from working as a mental health counselor to becoming a deputy Sherriff for the Maricupa County Sherriff's Department. He would come back to NY to fight 2 times during a span of 5 years until making a decision that would change his life. "I wanted to win a world title and continue to do what I'm good at doing" Burris stated. He moved back to Syracuse this summer and signed with Lace Up Promotions last month.
"We are thrilled to bring Ed aboard our team" Lace Up Vice President Lizz Bouchard stated. "He's a fan favorite and very exciting to watch."
Recently Burris made short work of his last opponent who was regarded as his biggest challenge to date. In February of 2011 in Rochester NY, Burris knocked out former Superheavyweight World Champion Dan "The Lizard" Lucas in less than 20 seconds of the first round with a spinning heel kick that shattered Lucas' ribcage. "I was in complete awe of his athleticism, composure and performance." Abdallah stated. "He's coming back into the sport he loves and I commend him for taking such a life changing step. His fighting style(s) are as unique as are his careers. From arresting criminals and placing them in jail to going back to the gym to train for a fight and then be a mental health counselor are distinct roles to play. He's remarkable for being so diverse."
Burris is slated to make his first fight with Lace Up Promotions on November 17th in Lockport NY, where both Abdallah and Burris have high expectations.
Amer Abdallah is CEO and President of both Lockport Athletic & Fitness Club and Lace Up Promotions. Lace Up has been hosting kickboxing, boxing and Muay Thai events around the upstate New York area since 1998 and has opened markets in Syracuse, Rochester and Connecticut. They have hosted events in Texas and New Jersey. "It's been such a blessing to have an opportunity to do what I love and be a part of so many communities. In each town we promote these events we feel right at home," says Abdallah.
Visit Lockport Athletic & Fitness Club homepage's website at http://www.lockportathletic.com and Lace Up Promotions at http://www.laceuppromotions.com. Like Lace Up Promotions on Facebook at: http://www.facebook.com/#!/pages/Lace-Up-Promotions/153547474674230