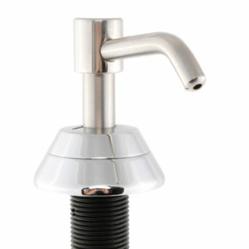 (PRWEB UK) 28 September 2012
Cnmonline store is well known to offer only new range of products in each categories every time and this time it is the soap dispensers like the Savona Foam dispenser 800ml, Savona cartridge dispenser 1000ml, Jofel Azur Bulk Fill Colored Soap Dispensers 1000ml, Battery Pack For Savona Automatic Cartridge Soap Dispenser,Dolphin Satin Stainless Steel Soap Dispenser 800ml "Foam Soap", Lotus Foam Soap Refills 800ml, 2 Litre Industrial Refillable Soap Dispenser, Concealed satinless steel fixing brackets and Dolphin Satin Stainless Steel Soap Dispenser Vertical 1200ml.
Each soap dispenser has unique features which facilitate the functionality in the washroom. The soap dispensers today are not only seen as a container having the fluid in it but a washroom accessory which looks simple great and enhances the washroom efficiency. The Savona Foam dispenser has the angled top for burn damage prevention. The locking system will deter and guarantee theft for the content integrity. It has the soap refill and loading mechanism too with operator speed convenience and hinged cover. This soap dispenser even has inspection window of the refill required having rich and luxurious feeling of the foam soap for delivering proper fluid in exact quantity. The bottle only contains 800ml of the foam soap. The units of the container can be screwed in the wall with the adhesive pads available in special cold version and standard form. The cover opens from the top with small key having nominal dosage of 2000 doses, 0.4 ml dose. The dimensions include H242mm and D115mm having 470grams of average weight.
The store even offers soap dispensers in Straight design made of durable material. These are available in four finishes having the non-drip pump mechanism patented, that dispenses nearly 2,000 doses each fill. Patented single valve will prevent the bacteria and soap from returning various types of versatile soap which are suitable in various environments. The cover opens from the top with the key. Many soap dispensers are constructed from thermoplastics which is recyclable. Pull and push operation options having the security key of 525grams and D115mm: H242mm are few other features too.
Dolphin Satin Stainless Steel Soap Dispenser is foam dispenser which has 800ml soap cartridge which includes cartridge that is quite hygienic having dimensions of W132mm: D120mm: H255mm with the plush bar. The Lotus Foam Soap Refills has the pump nozzle having 8200 doses and comes in pack of 6.
Then there is the industrial refill soap dispenser which is built for commercial use as it stores great fluid amount which is suitable for heavy industry, petrol stations, oil refineries and washrooms. These are heavy duty having smooth and easy to clean surface.
About us:
Cnmonline is an online UK store which specializes in providing comprehensive deal to customers on many electric products.
More information at http://www.cnmonline.co.uk