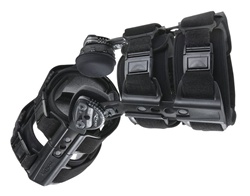 Houston, TX (PRWEB) September 27, 2012
MMAR Medical, a leader in wholesale orthopedic rehabilitation and sport medicine products, has officially established itself as a top wholesale distributor of Donjoy Bracing knee products, supplanting several long-time established brace distribution leaders. MMAR Medical's online store features a number of high-end brace manufactures, but the partnership with Donjoy has demonstrated considerable traction. This is likely due to an established sports therapy legacy tied to the Donjoy brand.
The partnership with Donjoy is part of MMAR Medical's larger strategy to be North America's premier high-end medical brand wholesaler. By partnering with medical innovation leaders such as Donjoy, MMAR ensures that their site consistently features world class sports rehabilitation knee bracing.
About Donjoy
DJO was founded by Philadelphia Eagles' Mark Nordquist in 1978, when his company pioneered the first neoprene sports knee braces and supports and today it is the official brace supplier for the U.S. Ski & Snowboard Teams as well as the Canadian Freestyle Ski Team.
Donjoy is a subsidiary of DJO Global, a leading provider of orthopedic devices used for rehabilitation, pain management and physical therapy, with strong ties to sports medicine and sports injury rehabilitation. Additional DJO Global brands include Encore, Cefar®, Empi®, Ormed®, Chattanooga, Compex®, Aircast®, OfficeCare®, ProCare®, SpinaLogic®, CMF, OL1000 and OL1000 SC. They currently own a number of leading brace market brands including Aircast and Donjoy.
DonJoy bracing systems are only available through certified distributors such as http://www.MMARMedical.com.
About MMAR Medical Group, Inc.:
MMAR Medical is a national distributor of orthopedic and sports medicine rehabilitative braces and products, including sports rehab braces and cold therapy devices. Based in Houston, Texas, MMAR Medical has provided high end medical brands at steeply discounted prices to medical professionals since 1990.
MMAR provides their customers with a customer-centric return policy, swift shipping, informational product videos and a robust Account History feature that makes repeat purchasing fast and easy. MMAR Medical's staff is comprised of trained experts. For questions regarding Donjoy bracing systems, please call MMAR Medical at 800-662-7633 extension 0.