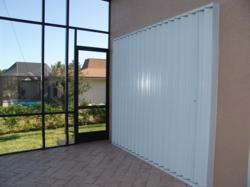 We are very excited to launch our new line of accordion shutters. We are already getting great feedback from our customers.
Sunrise, FL (PRWEB) September 26, 2012
HurricaneShuttersFlorida.com, a leading hurricane shutters and security shutters web portal, has just launched their new accordion shutter product called the Bertha HV 3. The Bertha HV 3 (High Velocity) Accordion Shutter System is one of the most advanced hurricane shutters on the market today. The end result of years of product development, engineering, and testing, the HV 3 shutter not only looks great, but can withstand winds that are only seen in Category 5 Hurricanes.
The Bertha HV 3 can be installed on a variety of openings. It's ideal for regular windows and doors. It can also be installed on countertops and used to close off balconies and patio overhangs. The Bertha HV 3, with its easy push button lock system, can have your home or business fully protected within minutes of deployment. It's the perfect hurricane shutter product for curved patio enclosures. The curved tracks are factory bent which means the shutter will roll easily and smoothly with little effort.
One of the key objectives when designing this accordion shutter was to create a system that would be able to stand up to the corrosive elements of the coastal environment. As most coastal residents can attest to, accordion shutters tend to freeze up and stop working over time. Even after a short time, without maintenance shutters installed near the coast will exhibit layers of sea salt and rust buildup. The Bertha HV 3 addresses this problem by using state-of-the-art accordion shutter hardware. All of the connecting fasteners are made from 410 Stainless Steel and are coated with Bertha's HV-DacroShield coating that has been salt water tested for 1,500 hours. These testing procedures are dramatically longer than any ordinary shutter hardware. Additionally, the Bertha HV 3 uses substantially larger connecting screws and bushings than other shutter systems. By using connecting fasteners twice the width of other available systems, our customers receive a shutter that is stronger and will last longer when exposed to extreme weather conditions.
HurricaneShuttersFlorida.com manufactures and sells hurricane shutter and security shutter products designed to protect both homes and businesses. They also offer a distributor program for licensed contractors.