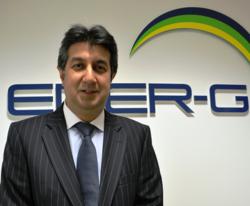 ENER-G is market leader in combined heat and power and metering and billing technology and services, providing the complete value chain of decentralised energy schemes
Manchester, UK (PRWEB UK) 28 September 2012
ENER-G Housing has appointed Zia Mirza as Development Director. He was Head of Delivery at Hyde Housing Association, where he partnered with ENER-G to help deliver some of London's most successful community energy centres at award winning Packington and Bermondsey Spa.
Zia Mirza said: "Affordable housing providers have been thrust into the driving seat to deliver decentralised energy networks and take on an unfamiliar role of becoming long-term energy providers. My personal experience has shown me how complex it is to manage the financial, development and operational challenges of community energy schemes. By combining my client-side experience with the comprehensive systems, technology and financial capabilities of ENER-G, we can guide housing providers through the complete process."
ENER-G is market leader in combined heat and power (CHP) and metering and billing technology and services, providing the complete value chain of decentralised energy schemes. Services and funding options extend from full energy centre design, financial modelling, build, installation, operation and maintenance - to design and supply of bespoke metering - through to data collection and credit and pre-payment billing.
The company's ENER-G Switch2 division has partnered with the social housing sector for the past four decades to deliver bespoke metering and payment solutions, managing more than 40,000 customer heat accounts across more than 400 sites.
Derek Duffill, Group Managing Director of ENER-G, said: "The Government's plans for a decentralised heat network across London and beyond presents a real challenge and opportunity for the social housing sector to extend their core business activity and become energy providers. With Zia's inside knowledge, we are in a unique position to provide the complete support the housing sector requires to make this step change. The expertise of our ENER-G Switch2 team in financial modelling, tariff setting and Energy Services Company (ESCo) implementation and management is particularly advantageous and our aim is to become the provider of choice for community heating consultancy, services and equipment."
ENER-G Switch2 has more than 30 years' experience of working within the social housing sector alongside local authorities, housing associations, registered social landlords, developers and contractors.
The company generates approximately 20 million data transactions per year and 8,500 energy bills per month and provides maintenance services to more than 50,000 dwellings across 435 district and communal energy systems in the UK. Of these, around 25,000 homes are connected to automatic meter reading systems.
ENER-G Switch2 also operates a number of residential and mixed used district heating schemes as the ESCo, over periods of up to 20 years. This includes the operation and maintenance of the energy centre plant such as combined heat and power(CHP) systems, biomass boilers, conventional boilers and thermal stores. The scope also includes the consumer interface units and meters located within the dwellings, as well as the automatic meter reading system, data collectors, prepayment units and any point of sales outlets. The company also has experience of operating the private-wire-network supplying electricity to the development.
For further information contact Zia Mirza at ENER-G Housing on 0844 477 2012, zia.mirza(at)energ(dot)co(dot)uk, http://www.energ.co.uk