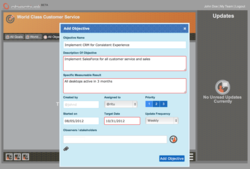 "I would like to have a 'home-base' or 'motherboard' where I could schedule and see everything." - Heather Bennett
(PRWEB) September 26, 2012
Mothers often juggle a variety of schedules in order to keep the household--and all its occupants--running smoothly. According to Insure.com's 2012 Mother's Day Index, the variety of household tasks is worth about $60,182. And that doesn't take into account the additional work many mothers do, in and outside the home.
For a person with many schedules and to-do items, using tech tools can be a lifesaver for setting and reaching both professional and personal goals. The recent release of iOS 6 offers many technology options for busy moms, but it is easy to get overwhelmed with the variety of features as well as other apps available.
Heather Bennett, a social media and community development manager at the Patrick Henry Boys and Girls Homes, said setting goals around the daily schedules of her and her family's is important to getting everything done.
"Goals and objectives come into the life of a mother, whether we want them to or not," Bennett said.
Jewel Fryer, owner of Social Media Farm, uses several things in order to set and see her goals, including notebooks, a whiteboard, and chalkboard paint on her desk.
"I set goals with list," Fryer said. "I usually have a list of what I need to do for the week done by Sunday night and I always have a running list in chalk on my desk of what I need to do each day."
Fryer said that setting goals and objectives keeps her on track when she has several things to do.
"There have been days when a goal has been to take a shower and do my hair because I have a meeting or someplace to be," Fryer said. "If it don't make it a priority I can find myself behind the gun on the way out the door."
Both Bennet and Fryer use technology to help them set, manage, and reach their goals. Fryer said her phone's reminder and calendar gets a lot of use, while Bennett uses several platforms to record her progress.
"I would like to have a 'home-base' or 'motherboard' where I could schedule and see everything," Bennett said.
Objectiveli's app offers that solution. Users create an account and set goals and objectives in their timeline, assigning priority levels, adding attachments and notes, and seeing a map of their progress. They can also share goals with other stakeholders, such as a co-worker or a friend, to help motivate them to succeed. Rather than just a to-do or reminder app, Objectiveli specifically helps users manage goals necessary to their successes.
Ritu Raj, owner of Objectiveli, advises users to set a couple of larger or long-term goals, and then add more specific objectives that fit underneath that vision.
"Objectives are where the rubber meets the road," Raj said. "By focusing on only a few goals and setting objectives that reach them, people can truly manage their performance."
Objectiveli is an online application that allows individuals to easily manage goals and objectives. Objectiveli was founded in 2012 by Ritu Raj. Raj is also the founder of OrchestratorMail, an email-based platform for coordination, Avasta, a cloud computing company, and Wag Hotels, the largest chain of dog hotels. Additional information can be found on Objectiveli's website: http://www.objectiveli.com.