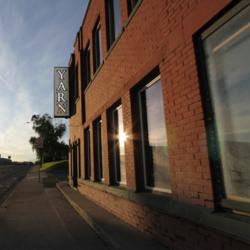 It was a really humbling experience seeing all these terrific reviews of our little yarn shop coming in, our customers really came to the rescue
Spokane, WA (PRWEB) September 26, 2012
Paradise Fibers started out selling spinning fiber in a quaint warehouse located behind an adult bookstore. "You don't always get to choose an ideal location when you're on a tight budget," says Travis Romine, owner and wool shop fiber aficionado. "Selling spinning wheels and craft items at such an unsavory location who would have guessed this little yarn shop that could, would not only survive but one day take on corporate giants?"
Krem2, a local news broadcaster puts on the Best of Spokane contest every year. It's basically an online contest for local store popularity within various categories. Kyle Bickley, one of the customer service ninja's at Paradise Fibers (slash volunteer fireman) noticed they were nominated for Best of Spokane. The excitement level quickly dimmed after a quick look at the competition. All of the huge "box stores" were already participating like Michaels, Joann Fabrics and Hobby Lobby, which are national chains. "Going up against these behemoth craft stores with their unlimited advertising budgets wasn't going to be easy but why not give it a shot," said Romine.
"August 31st about 20 days left in the contest Kyle sends out a few emails and a facebook post calling on our customers for their votes. Within minutes a rumble... and then a roar began on the world wide web. Knitters, Spinners, Crocheters, Felters & Weavers united and joined in battle against the evil box stores!" recalled Romine. "Fiber artists from all over the nation cast their vote and the heartfelt support and wonderful comments about Paradise rained down like balls of merino wool. Ok…the reality of merino wool raining down is pretty slim but so were the chances of Paradise competing with chain stores in a contest, and it's a lot more humane than raining frogs."
Comments kept coming in from Paradise customers across the country with their positive experiences and words of encouragement while placing their votes for the Best arts and Crafts category. "It was a really humbling experience seeing all these terrific reviews of our little yarn shop coming in, our customers really came to the rescue," said Romine. "The contest quickly took a back seat to the amazingly positive response of our customers, the entire family at Paradise Fibers was on the edge of their seats watching the glowing comments come in from customers everywhere."
Paradise Fibers won best of Arts and Crafts category by a landslide. At the end of the day it really wasn't Paradise Fibers who earned the award, it was their remarkable customers who liked, shared and twittered to help out their favorite store. "We like to think our customers love our store, it's one of the craziest yarn shops in the nation, but they went overboard coming to our rescue like this."
About Paradise Fibers
Paradise Fibers started out selling spinning fiber and spinning wheels out of a basement back in 1997 with a small black and white paper catalog and crude website. In 2005, the Romine Family purchased the company and started transforming the fledgling wool shop with a lot of elbow grease and limited resources. They rented the aforementioned space on Trent Street behind the adult book store and started increasing the mail order business with a new website and a lot of enthusiasm. "If you treat your customers like family they will have a great experience and come back. It's also a fun way to do business," says Travis. Taking great care of customers with really fast shipping is a credo that has propelled Paradise Fibers. Also knowing about the complex products like spinning wheels and weaving looms and being able to answer any question about them has really set them apart from the internet only fulfillment type fiber shops out there. Being knowledgeable about fiber, yarn and the wild variety of products has been challenging and constantly evolving program for the staff. "It's very rewarding when you impress a customer with help on their project they couldn't get at other shops that just sold spinning wheels without any tech support."
Paradise Fibers moved away from the adult book store into an abandoned bakery in November of 2010 (thankfully). Made of brick with rustic hardwood floors this building and location was a great match and has become a popular tourist destination in Spokane for fiber artists from around the world. Their selection of spinning fiber is unmatched with over 600 natural fibers from various animals, plants, dyed and natural. They also carry spinning wheels for sale from around the world including Ashford Spinning Wheels from New Zealand as well as American made Schacht Spinning Wheels and Kromski Wheels made by a family in Poland. Paradise also has created their own high end Spinning Wheel made in Spokane called the Revolution Spinning Wheel with advanced features and custom balancing.
Although Paradise Fibers started out selling spinning fiber, they have expanded their product selection to a full hand weaving department with weaving looms from Kromski, Ashford Looms, Schacht and LeClerc Looms as well as a full selection of weaving yarn, knitting yarn and crochet yarn. Family owned and operated, Paradise Fibers delivers a friendly, knowledgeable and fun shopping experience.