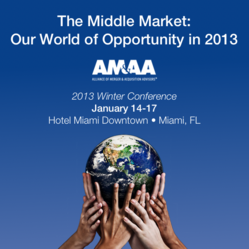 One of our primary goals at this conference is to facilitate and foster immediate and ongoing deal flow by bringing together deal makers in this fragmented segment of the marketplace - Kesoglou said
Chicago, IL (PRWEB) September 27, 2012
The Alliance of Merger &Acquisition Advisors (The Alliance) today announced the appointment of four (4) prominent members of the middle market business community to chair their Winter Conference – 'The Middle Market-Our World of Opportunity in 2013' on January 14-17, 2013 in Miami, Florida.
According to the Alliance leadership, these appointments serve as an important step to better serve and harness the resources, opportunities and players within this highly fragmented sector. "Our goal, with this Conference and with the appointment of these Co-Chairs, is to accelerate the role of the middle market as a massive engine to transform business, renew prosperity and drive economic opportunities – both here in the U.S. and around the globe – immediately and over the long term," offered Michael Nall, CEO and Co-Founder of the Alliance.
In appointing Kyle Madden, VP at KLH Capital, a Tampa, FL-based private equity firm, Jacqueline McCook CEO of The McCook Group in Miami, FL, and former Chief Growth Officer and EVP, ConAgra Foods, Inc., Steve Silverman, Director of Mergers & Acquisitions at Doeren Mayhew firm TR Moore & Company, of Houston, and Thomas Kesoglou, Corporate Partner in the Private Equity Group at, McCarter & English, LLP's NY offices, to chair the Winter Conference, we are bringing together four (4) individuals who share a passion and focus on driving performance and deal making in the middle market – those companies with transaction value between $5 and $500 million.
Together, these Conference Chairs will provide direction and support to exponentially increase the effectiveness for live and virtual knowledge-sharing at the Conference and drive qualified connections and opportunities to the middle market business owners, C-suite executives, investors, intermediaries and advisors who are being brought together. Conference Chair, Thomas Kesoglou stated, "One of our primary goals at this conference is to facilitate and foster immediate and ongoing deal flow by bringing together deal makers in this fragmented segment of the marketplace."
Nall added, "By coming together for our January, 2013 conference, 'The Middle Market- Our World of Opportunity in 2013,' in Miami – the gateway to Latin America and the port of call for North American and cross-border opportunity – and now appointing these highly-regarded individuals to guide the experience we will offer at the Conference, we are on the road to realizing our vision of creating this new Middle Market Center of Excellence."
For details and to register for the Alliance's Winter Conference, 'The Middle Market-Our World of Opportunity in 2013,' please visit http://www.mandaconnection.org or call, 877.844.2535. Follow conference updates on Twitter @ #worldofopp2013.
Organizations interested in learning more about the Alliance's plans for the Middle Market Center of Excellence should contact the Alliance at 877.844.2535 or email info(at)amaaonline(dot)org.
The Alliance of Merger & Acquisition Advisors® (the Alliance) is the premier international organization serving the educational and resource needs of the middle market M&A profession. Established in 1998 to bring together CPAs, attorneys and other experienced corporate financial advisors, AM&AA's 870-plus professional services firms draw upon and share their expertise to better serve the need of middle market companies worldwide. AM&AA members represent sellers and buyers of businesses ranging from $5 to $500 million in transaction value. For more information, visit http://www.amaa.org.