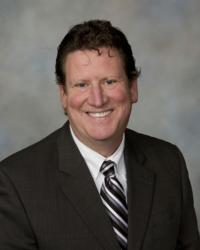 DeKalb, IL (PRWEB) September 27, 2012
Brad Copple, president of Kishwaukee and Valley West Community Hospitals, was recently honored for his advocacy efforts at the 2012 Illinois Hospital Association (IHA) Leadership Summit in Lombard. He was one of three hospital leaders to receive recognition from the American Hospital Association/IHA. The PAC Most Valuable Player Award is given to individuals who understand the value of a robust PAC by taking a leadership role to develop a strong PAC base in their organizations, working to strengthen their relationship with legislators.
Copple was honored for his leadership in developing strong support of the IHA PAC and working to strengthen Kish Hospital's relationship with legislators.
Dan Woods, former president and CEO, St. Anthony Memorial Hospital, Effingham was also recognized with the AHA/IHA Most Valuable Political Action Committee (PAC) Player Award. Tim Eckels, vice president, Community Benefit, Public Policy and Advocacy, Hospital Sisters Health System (HSHS), Springfield, was recognized as the AHA/IHA 2012 Grassroots Champion for his exceptional leadership in generating grassroots and community activity in support of a hospital's mission.
The IHA PAC, a nonpartisan, independent statewide organization, uses an informed and balanced approach to candidates and positions, emphasizing the hospital perspective on health care and other critical issues. Looking to improve the delivery of health care through high-quality and cost-effective patient care, the IHA PAC helps support candidates who are committed to supporting and strengthening health care in Illinois.
The AHA/IHA Most Valuable PAC Player Award was established in 1997 to recognize the work of individuals who have provided outstanding leadership helping to ensure that Illinois hospitals have a meaningful voice on legislative issues affecting the communities and patients they serve.
IHA PAC is the political action committee of the Illinois Hospital Association. It is nonpartisan, independent, statewide and administered by a board of directors that includes executives of Illinois hospitals.
The Illinois Hospital Association, with offices in Naperville, Springfield, and Washington, D.C., represents and is an advocate for 200 Illinois hospitals and health systems and the patients and communities they serve. For more information, visit http://www.ihatoday.org.
KishHealth System serves DeKalb County and parts of Ogle, Kane, Kendall and LaSalle Counties.