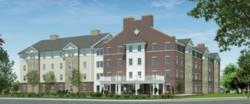 Delaware Place allows Miller-Valentine Group to bring its dedicated expertise... to seniors in the Delaware area.
Columbus, Ohio (PRWEB) September 26, 2012
Miller-Valentine Group, along with its partners on this community, the Ohio Housing Finance Agency, Ohio Capital Corporation for Housing, M+A Architects, Kleingers & Associates, the EDGE Group, and Key Bank are developing Delaware Place as a part of the federally funded, state managed Low Income Housing Tax Credit program.
Delaware Place demonstrates the value of the federal housing tax credit program on numerous levels. Primarily, it delivers high quality affordable housing for adults, 55 and older in Delaware who currently have limited or no affordable housing options. Seventy-two new jobs were created for the project, approximately 35 of which are in the construction sector. Delaware Place has also generated over $5.4 million for the local economy (wages for local workers and profits for proprietors, small businesses, and corporations), as well as more than $2.0 million of taxes for federal, State of Ohio, and City of Delaware government.
Dave Liette, President of Miller-Valentine Residential Development said that the company is very excited to have the opportunity to invest in the area. Liette explained. "Delaware Place allows Miller-Valentine Group to bring its dedicated expertise in affordable, high-quality housing to seniors in the Delaware area. We are honored and privileged to have a positive impact on their lives."
For more information about the ground breaking or Delaware Place, please call 1-800-329-RENT (7368), email yournextplacetolive (at) mvg (dot) com, or visit YourNextPlacetoLive.com.
About Miller-Valentine Group
Since their founding in 1963, Miller-Valentine Group has been dedicated to quality, value and service. Their vertically integrated companies offer total real estate solutions in the areas of Design/Build Construction, Development, Management, and Financing for both residential and commercial markets. They also provide Renovation, Brokerage, and Leasing services for commercial markets. All of Miller-Valentine Group's divisions have combined to provide customers with more than 11,000 residential housing units and over 50 million square feet of commercial space.
Miller-Valentine Group develops real estate in the Midwest, Southeast, and Southwest regions of the country, with offices in Dayton and Cincinnati, Ohio, Columbia and Charleston, South Carolina, and Ft. Worth, Texas. As an industry leader they offer a wide range of residential products, including multi-family, single family, military housing, active adult, independent and assisted living, as well as skilled nursing communities. The company also offers a vast array of commercial products, including office, retail, lodging, healthcare, manufacturing and distribution facilities.
Find Miller-Valentine Group on LinkedIn.