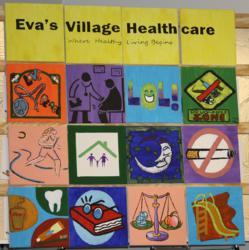 Paterson, New Jersey (PRWEB) September 28, 2012
Families in America are in economic crisis and at the top of the list is health insurance coverage. According to the CDC/NCHS, National Health Interview Survey, 2011, 46.5 million Americans (15.1%) were without health insurance in 2011. Hispanic persons were more likely (29.6%) than non-Hispanic white (11%) and non-Hispanic black (17.4%) persons to be uninsured. The proportion of people uninsured is higher among those with lower incomes.
Eva's Village Healthcare is one of only a handful of free primary care clinics in the state of New Jersey. Started in 1994 as a mobile van to administer TB tests, today the clinic provides over 2,800 medical or dental care visits annually to the residents in their shelters, substance abuse treatment programs, or among the 350-400 people they feed each day in their kitchen. In early 2012 they opened a new and expanded primary care clinic.
"One of the most unfortunate consequences of poverty and homelessness is the lack of skilled and compassionate health care," states Marie Reger, executive director at Eva's Village. "People living on the fringe, including many of the working poor, are at a much higher risk of chronic health problems." Eva's Village provides primary care and medication for acute conditions, chronic diseases and for dental patients. All of their patients are uninsured or underinsured.
Eva's Village Healthcare has always relied upon the generosity of volunteer doctors, nurse practitioners, nurses and dentists. With the new and expanded clinic they are seeking additional volunteers. For more information about getting involved at Eva's Village as a volunteer, call or email Jennifer Doherty at 973.523.6220 ext. 248 or Jennifer(dot)Doherty(at)evasvillage(dot)org.
About Eva's Village
Founded by Msgr. Vincent E. Puma in 1982 as a response to the poor and homeless in Paterson, NJ, Eva's Village is a non-profit comprehensive social service organization with a mission to feed the hungry, shelter the homeless, treat the addicted and provide free medical and dental care to the poor. Through almost three decades of service, Eva's Village has established a unique record in facing community challenges and changing the lives of the hungry, homeless and addicted. It has grown from a simple soup kitchen to become the most respected anti-poverty program in New Jersey. Eva's Village now includes fourteen integrated programs housed in numerous buildings spanning several city blocks in Downtown Paterson.