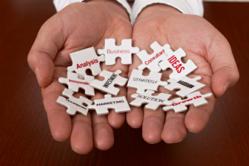 In just a few hours, coaches can ascertain any organization's top opportunities and challenges.
Washington, D.C. (PRWEB) September 27, 2012
9Lenses just announced their exclusive partnership program for executive coaches. By partnering with 9Lenses, executive coaches receive unfettered access to the suite of organizational learning applications. 9Lenses' executive coach program is designed to equip coaches with quantitative performance measurement tools.
"Executive coaches are masters at leadership development," says CEO and Founder of 9Lenses Edwin Miller. "An executive coach can transform the entire culture of a business. Unfortunately, fewer than twenty-five percent of executive coaches ever provide quantitative data to demonstrate the impact of their services."
9Lenses insight platform helps coaches reveal key sources of organizational dysfunction like misalignment, personality conflicts, and communication bottlenecks. In just a few hours, coaches can ascertain any organization's top opportunities and challenges. Most importantly, 9Lenses' secure cloud-based software applications help coaches track and quantify the evolution of their client's organizations over time.
Consider how powerful that information becomes when placed in the hands of an executive coach. A coach is often an executive's closest sounding board, council, and friend. With 9Lenses, that coach can help executives pinpoint actionable areas for improvement across the entire company, and track their client's success as they flourish.
MetrixGlobal LLC recently found that the average return on executive coaching was about $7.90 for every $1 invested. Unfortunately, few coaches have tools at their disposal to demonstrate their ROI. 9Lenses' executive coach application suite tracks the health of every part of their client's organization and helps coaches articulate the direct and indirect improvements caused by their training efforts.
With 9Lenes, partners gain:
Referrals—Coaches develop a new sales tool. The analytics dashboards within the 9Lenses schema demonstrate the changes affected within a client's company. Leverage these to win referrals.
Reengage—Coaches can reengage old clients in a robust conversation about the present state of their business and offer to reveal top opportunities and challenges.
Credibility—Executive coaches gain credibility when they benchmark their services against clearly defined industry standards.
Evolve—Coaching changes perceptions. Tracking those changes allows coaches to adapt mid-play.
Catalyst—The coach becomes the catalyst of some of the most important changes in their client's organization.
Record—Develop a proven track record by quantifying ROI for future clients.
Compare—Coaches can even compare their data to other industries, to best of breed enterprises, and the portfolios of other coaches to learn and continue to grow.
Happiness—By encouraging clients to leverage 9Lenses, executive coaches empower those in the organization who normally wouldn't speak out to share their perspectives which makes them feel valued and heard.
"9Lenses' crowd sourcing software provided piercing insight into every part of my business. I've never seen anything comparable! It's like McKinsey's analytics meets Yammer's social engagement platform—but better. 9Lenses' application sessions are entirely cloud-based which enabled us to pinpoint actionable opportunities for improvement in hours, not weeks or months. The analytics are rich, deep, and comprehensive. A must have for any business committed to continuous improvement." ~Peter Fitzsimmons, CEO, Primatics Financial
9Lenses, founded in 2011, is a leading provider of cloud-based Enterprise Performance Software, and delivers a breakthrough insight platform for the most critical resource in your business – your people. With a fast growing customer set, we empower our customers to have a quantifiable approach for driving clarity, collective learning, and alignment. Determine how your business performs across all 9Lenses today, through the eyes of your key stakeholders.