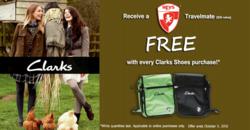 Toronto, ON (PRWEB) September 26, 2012
With fall weather comes the return to more classic and sophisticated fashion. Clarks Shoes embodies timeless style moulded with superior technology to deliver quality and comfort in every pair from their Fall 2012 Collection. WalkingOnACloud.ca invites shoppers to check out the entire Clarks Fall Collection, and receive a free Clarks-branded HEYS Travelmate, valued at $30, with every Clarks Shoes online purchase until October 3, 2012. Stay organized with the Travelmate's 12 compartments and additional passport bag, while the stylish cross-body strap keeps hands free. Clarks and HEYS makes it easy to look great this fall.
Casual styles from Walking On A Cloud this season showcase warm colours and fabrics to compliment cozy, comfortable fashion. The women's Wave Trek in red or black is a sporty sneaker perfect for outdoor walking. It's waterproof upper keeps feet cozy and dry, while the authentic nubuck leather promotes breathability. Built on a rocker sole, the Wave Trek supports natural foot movement to reduce the amount of energy used for each step and cushions joints to reduce foot fatigue. Wave Trek features a lightweight, moisture-wicking Ortholite® foam footbed that can be removed to accommodate Orthotics. The men's Rombus is a fashion sneaker equipped for all-day wear, available in dark or light brown. The full-grain perforated leather upper ensures optimum breathability, while the shock-absorbent rubber outsole offers walking support to keep feet from feeling tired. Rombus also features a cushioned midsole, Ortholite mesh insole that can be removed for washing, and arch and ankle support. With suede detail on the toe and back of the foot, contrast stitching, and lace-up design, the Rombus is the perfect comfort shoe to compliment khaki and corduroy staples to fall fashion.
Dress shoes at the office emulate classic Clarks style. The Un Cheer for women lends itself to the current 'menswear for women' trend, as a sleek, lace-up dress shoe with slight wedge heel for a little extra flair. The soft leather upper and lambskin lining allow for a custom fit, ensuring a secure step. As part of the Clarks Unstructured Collection, Un Cheer features the Unstructured Air Circulation System and is incredibly light; the dual channel internal air system pushes out heat and moist air to bring in fresh air from outside to promote the optimal foot climate. The Un Anders for men, is also part of the Unstructured collection, providing the look of a strong and sleek dress shoe with remarkable lightness. The Un Anders is a non-lace up leather shoe, with elastic gores along the collar to promote easy on-and-off. The combination of leather and suede lining for breathability, padded Ortholite footbed, and rubber outsole with enhanced traction and shock absorbency make the Un Anders the perfect shoe for city walking.
For those a little more sensitive to the cooler weather, the Clarks Orinocco headlines a great selection of Clarks dress boots that have begun arriving at Walking On A Cloud. With 14 ¾ inch shaft crafted from matte oil leather, the Orinocco features riding boot styling. Inside the full side-zip shaft are four hidden gores that ensure a comfortable fit contoured to the calf. Orinocco is sock-lined and has a padded insole, which buffer every step to prevent foot fatigue that often happens when wearing boots. The TPR outsole with 1 ½ inch heel is slip-resistant, allowing for a fashionable yet secure look.
Shop these and other great Clarks Shoes, including the Unstructured, Indigo and Privo lines to receive a free HEYS Travelmate. Visit WalkingOnACloud.ca now to get stylized for fall with great shoes and a free gift. Travelmates are only available on online purchases, and until October 3rd or while quantities last. As always, WalkingOnACloud.ca offers free shipping on orders over $50, and a 60-day return policy. Happy shopping!
About Walking On A Cloud
Walking on A Cloud is a Canadian family owned and operated business. We are committed to and take pride in constantly exceeding our customers' expectations. By providing value added service with professionalism and superior footwear, we are able to develop and foster long-term relationships with our customers.
As a leading footwear retailer we possess an extensive collection of womens and mens footwear by the best, high quality brands in the world. We provide footwear for all your needs; from an active day of hiking rough terrain to a work day in the office and everything in between. We consistently introduce the latest in style, trend and comfort technology into our stores. Our professional and knowledgeable sales people provide personalized service second to none. We stock a wide array of styles, sizes and widths so a customer can walk out with properly fitted shoes the same day. To meet today's footwear needs we also stock a large selection of orthotic-friendly, environmentally-friendly and vegan-friendly footwear as well as shoes for consumers with various health related problems.
Walking On A Cloud is definitely the one stop shop for all your footwear needs.