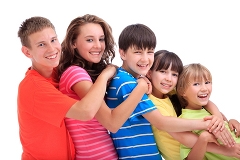 the middle child of the family may adopt the personality of a first born if she is a lot younger than her elder sibling
(PRWEB) September 27, 2012
First born children are thought to be natural-born leaders while last born children seem to have a natural flare for entertainment. Think Jim Carrey, a comedian who unsurprisingly, is the youngest of the family. Over the years, it seems that birth order does have an effect on the personality type of a person.
Yet there is more than what is commonly assumed, says Chrystal Lee, the owner of MyBirthOrder.com. She hopes to educate her visitors that despite being born in a certain position of the family, this does not necessarily mean one naturally adopts the personality of that birth order.
This is what Lee hopes to uncover. By offering a free birth order personality test on her website, visitors can see whether their family experience coincides with their birth order.
"Sometimes, due to factors such as age gap, the middle child of the family may adopt the personality of a first born if she is a lot younger than her elder sibling," comments Lee, who has spent years studying the effects of birth order on personality.
At MyBirthOrder.com, visitors can also expect to find out how their birth order can potentially affect their romantic relationships and what type of jobs they may excel in. She cites that individuals with a last-born personality generally do well in sales and marketing positions. With that in mind, readers can learn how to adopt tips and strategies to persuade others.
"If you can tell the birth order personality of your romantic partner and yourself, you'll know what are your strengths and weaknesses. This can help build a better relationship, knowing what makes the other tick or turns him off," says Lee.
Lee's goal is to spread her knowledge on birth order personality and help others understand themselves better. She believes that when an individual has a better understanding of who he is as a person, he is also more likely to know what his goals in life are.
To find out how to get a free birth order personality test, visit MyBirthOrder.com.