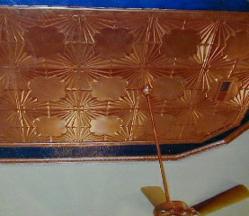 We have brought back four original designs of pressed tin in the Art Deco style for walls, back splashes and ceilings
Houston, Texas (PRWEB) September 27, 2012
With the new style, that Chelsea has now added to their line of tin ceilings, they hope to bring back the glamour and elegance from that time. What Art Deco brought to that era was the art of symmetry which influenced architecture, interior design, fashion and jewelry. No longer was the art of asymmetrical fundamental curves of the art nouveau popular any more.
These original Art Deco designs were created in the 1930s, despite popular belief that they were around in the roaring 20s. The truth is that the Art Deco style began in Paris in the 1920s but didn't erupted internationally until the 1930's and was soon gone in this country by the late 30's and early 40's. Just a side note, the term Art Deco wasn't coined till 1966 when an exhibition in Paris was celebrating the art of the fore mentioned 1920 Paris movement.
There was a resurge of the Art Deco designs in the 1960s and again in the 1980s with other artistic influences like pop art. Miami, Florida is known for their art deco district with a large number of art-deco buildings and thirty blocks of hotels and apartment houses which have been restored and painted in their original pastel colors. So with that in mind The Tinman says, "We have brought back four original designs of pressed tin in the Art Deco style for walls, back splashes and ceilings. There are also three original cornices and a molded filler".
The tin ceilings come on sheets that are 2' x 4' for easy installation, but can also come in panels that are 23 3/4" x 23 3/4" for a suspended ceiling. The pattern size are available in a 6" design which is quite appropriate for a back splash, a bar front or even a small room like a hall, bathroom or powder room. The 12" patterns work well in kitchens, bedrooms, libraries and game rooms, while the 24" patterns work well in rooms with high ceilings.
Besides the arrival of the original Art Deco designs back into the tin ceiling catalog there are also original designs from Turn of the Century styles, Americana styles and Victorian styles. Chelsea has been a leading manufacturer for over 60 years and although the business started in New York City, the Tinman has relocated to Houston, Texas so they can be more centrally located in the country.
Architects, interior designers, builders and consumers have been delighted with tin ceilings and now they have a new style available. The new designs as well as the old ones come in a shiny silver finish, but other finishes that Chelsea offers are a bright shiny copper and nine hand painted finishes. All can be seen at the website: http://www.Tinman.com