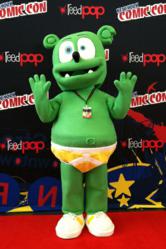 Teaneck, NJ (PRWEB) September 27, 2012
Gummybear International, creators of the Gummibär brand and the animated gummy bear character, is proud and excited to be an official exhibitor at this year's New York Comic Con, taking place from October 11th to the 14th. Gummybear International's booth (#869) will be open to fans for the duration of the show and will be hosting numerous special appearances by Gummibär himself, where he will be performing his hit songs and will also be available for photos, television appearances, interviews and product signings.
In addition, fans can get a sneak peak at the trailer for Gummibär's Christmas Special "The Yummy Gummy Search For Santa" being released on November 8th via Lionsgate Films. Gummybear International will be promoting the Gummibär brand with lots of free swag give-aways and daily drawings for fans to win merchandise. Fans will also have the opportunity to purchase rare and collectible Gummibär merchandise not available for sale anywhere else and buy merchandise at special reduced pricing.
Gummibär Comic Con Appearance Schedule
Thursday – 4:00 PM, 6:00 PM, 8:00 PM
Friday – 1:00 PM, 3:00 PM, 5:00 PM, 7:00 PM
Saturday - 1:00 PM, 3:00 PM, 5:00 PM, 7:00 PM
Sunday – 11:30 AM, 1:00 PM, 2:30 PM, 4:00 PM
Gummybear International is engaged in the creation, development, and branding of animated entertainment properties as well as all musical content based on and produced for such properties. It markets and sells recorded musical and video products in various physical formats, such as compact discs and DVDs, and digital formats, such as downloads and ringtones, through a worldwide network of established distributors and licensees. The company's music publishing segment owns and acquires rights to musical compositions, markets these compositions, and receives royalties or fees for their use. It also is actively developing mobile and computer based games and exploiting merchandising rights for its brands in cooperation with a variety of licensing partners. GBI is working on a number of film and TV projects. The company is headquartered in New Jersey. For more information, visit the Gummybear International website at http://www.gummybearinternational.com.