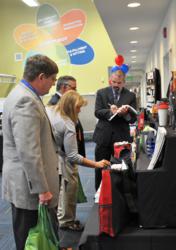 It is really difficult to substitute walking around, touching, and feeling the product. That's why clients related so well to this event.
Hunt Valley, MD (PRWEB) September 28, 2012
WebbMason (http://www.webbmason.com), an integrated marketing solutions and services company, created a BOOM in Baltimore, Maryland on September 25 at the Superhero Promo Preview Show. Coinciding with National Comic Book Day, the superhero themed event, held in the Marketing Innovation Center™ @ WebbMason, was packed with more than 150 attendees who engaged with promotional experts. WebbMason's supplier partnerships allowed it to showcase more than seventy product lines representing thousands of samples for attendees to see and experience.
Chris Pscherer, promotional market manager, and Jessica Lever, senior specialist, managed the project since its conception in March. "The show went above and beyond because attendees not only interacted with manufacturers and distributors, but also with the products," said Pscherer.
"The show proved the relevance of delivering a strategic promotional product service to our customers. It underscores the power and importance of branded merchandise when clients are willing to drive hours to attend an event. It is really difficult to substitute pictures for walking around, touching and feeling the products. That's why clients related so well to this event," said Sarkis Hagopian, vice president of sales in Washington, DC.
This was WebbMason's second promo show, following the Get Fresh Promo Preview in April 2010. WebbMason raffled off prizes and held a networking reception for suppliers and attendees after the show.
About WebbMason
Founded in 1989, WebbMason is a leading United States integrated marketing solutions and services provider. It helps marketers and operations professionals manage brand consistency, streamline processes and save money through a winning combination of industry expertise, exceptional promo and print management capabilities, and technology innovation. Solutions include marketing resource management (WM MarketingBench™), on-demand document printing (WM DocBuilder), and online workflow management (WM Connect), in addition to website development, PURL design, search, email marketing, social media, and marketing analytics through its WebbMason Interactive services. WebbMason has 21 sales offices and seven warehousing, distribution and fulfillment locations throughout the United States. Learn more at http://www.webbmason.com.
Social Media Tags: @WebbMason, #WMPromoShow, #IntegratedMarketing
###