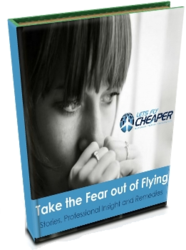 It is an overly vigilant anticipation or response that a person has to what should otherwise be a neutral situation. People with anxiety disorders in general have more of a tendency towards fears and phobias
Las Vegas, Nevada (PRWEB) September 27, 2012
Millions of people worldwide are affected with the phobia of air travel. This disorder can be a catastrophic experience for these folks and on many occasions they develop the thought of hopelessness that a cure doesn't exist. The folks at Lets Fly Cheaper.com explore the disorder and interviewed a number of fearful fliers, aviation professionals, hypnotherapist and psychologist. Topics covered range from causes, remedies that work, hypnotherapy and personal insight on tailored custom techniques that have worked for some.
"It is an overly vigilant anticipation or response that a person has to what should otherwise be a neutral situation. People with anxiety disorders in general have more of a tendency towards fears and phobias" - Helene Laurenti, Ph.D., Licenses Psychologist-
The book is designed to educate and give the fearful flier a firsthand look at the options that are available. In addition from the firsthand accounts featured, the reader can get an idea on what folks like them have gone through and what they might utilize to help them cope with the fear.
Aerophobia (fear of flying) affects nearly 25% of the population and is one of the most common phobias in the world. Statistics on the disorder point to underlining conditions such as stress and anxiety as leading factors of the fear of flying. It is extremely rare that a person will just have aerophobia and nothing else.
"I've found that eating a big meal before my flight helps, as it makes me sleepy, and arriving at the airport in plenty of time for my flight makes the whole process less stressful"
-David Bakke- Editor and Contributor for Money Crashers
The author, Sean Delanty is the marketing director and web content writer for Lets Fly Cheaper. He is also the husband of a fearful flier and has had many encounters with the phobia. In addition, as the statistics point out, his wife also suffers from occasional anxieties. Delanty says medication and music have always worked best for them when they travel by air. He and Lets Fly Cheaper are in the process of working on another short eBook. The topic will cover the legendary Concorde and what it meant to travelers and travel technology. Read Sean's travel industry related blogs at letsflycheaper.com.
Take the Fear out of Flying is available now for free here.
Lets Fly Cheaper.com is a low fare specialist, focused on supplying cheap business class flights to international destinations worldwide. To book the lowest fare contact one of their travel agents at 1-800-240-0461 or go to http://www.letsflycheaper.com
Sean Delanty
Marketing Director
Lets Fly Cheaper
800-240-0461