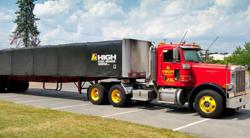 "When our customers cut HIGHSL, it stays flat," says Cunningham. "This protects their equipment, throughput, and operating efficiencies. As a result, our customers' final product quality is better and their operating costs are lower."
Lancaster, Pa. (PRWEB) September 27, 2012
High Steel Service Center LLC, a metal service center based in Lancaster, Pa., has doubled the distance its trucks travel to deliver processed coil steel to fabricators. The company now serves customers in Pennsylvania, Maryland, Delaware, Virginia, West Virginia, New Jersey, and New York.
High Steel Service Center expanded its four-hour service radius to eight hours in response to demand for its new HIGHSL sheet and plate products, which are stress-free and remain flat during laser cutting operations. Introduced in July, 2012, HIGHSL has transformed the company from a local metal distributor to a full value-added master distributor serving the growing laser quality market.
"People who understand and appreciate the value of truly flat steel want HIGHSL," says Jim Cunningham, vice president of sales and marketing. "We are meeting their need for cost-effective products that support their profitable growth." Billed by the company as "panel-flat that stays flat," HIGHSL is currently the only stress-free coil steel produced on the East Coast.
HIGHSL is processed on High Steel Service Center's new $10 million HIGHSL line, which comprises a Red Bud Industries Inc. stretcher leveler and two Bradbury roller levelers, one of which has Bradbury's technologically advanced eDrive. The line is the only one of its kind in the United States.
High Steel Service Center customers value the flatness of HIGHSL steel because it eliminates processing problems and downtime that results when internal stresses cause warping and buckling during fabrication. The company's equipment stretches the coil steel beyond its yield point, relieving 100 percent of the internal stresses introduced at the mill and rendering the material the flattest it can be.
"When our customers cut HIGHSL, it stays flat," says Cunningham. "This protects their equipment, throughput, and operating efficiencies. As a result, our customers' final product quality is better and their operating costs are lower."
High Steel Service Center delivers steel to customers on trucks owned and operated High Transit LLC, which is also based in Lancaster, Pa. Both companies are affiliates of High Industries Inc.
About HIGHSL - Panel-Flat that Stays Flat
HIGHSL carbon steel is available in 16-gauge through ½" thicknesses, up to 72" wide, and up to 480" in length. High Steel Service Center makes HIGHSL available to its direct customers, other steel service centers, and the spot market.
About High Steel Service Center LLC
Established in 1978, High Steel Service Center LLC processes coil steel for use by original equipment manufacturers, laser processors, sheet metal fabricators, and others. The firm operates a 200,000-square-foot, 150,000-ton capacity metal distribution operation located in Lancaster, Pa. Value-added services include state-of-the-art stretcher leveling, e-Drive roller leveling, roller leveling, multi-cut precision blanking, slitting, shearing, and sawing services for carbon steel, stainless steel, and aluminum flat-rolled and general line products. Recently, the firm invested $10 million in a Red Bud Industries stretcher leveler in combination with two Bradbury roller levelers to produce panel-flat, stress-free steel branded as HIGHSL -- Panel-Flat that Stays Flat. With more than 60 employees, the firm serves customers throughout Pennsylvania, Maryland, Delaware, New Jersey, New York, Virginia, and West Virginia.