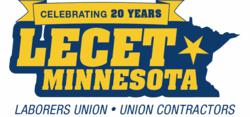 It's our mission to stay ahead of changing trends in the construction trades and train our members to be safe.
LINO LAKES, MINNESOTA (PRWEB) September 27, 2012
For the past 20 years Minnesota Laborers-Employers Cooperation and Education Trust (LECET), an arm of the Minnesota Laborers Union and the Minnesota Laborers Training Center have helped pave the way for 1.55 million hours of training for members to ensure they are properly trained, represented and protected on work sites.
In celebration of its commitment to training and safety, Minnesota LECET and the Laborers Training Center are hosting their Fifth Annual Contractor Appreciation open house on Friday, September 28 for many of Minnesota's biggest and best Union contractors. The event will showcase the impressive, 44,000 square foot Laborers Training Center facility and also recognize 32 Union contractors for their commitment to construction safety.
The event will also celebrate the 20th year of Minnesota LECET. Since its formation in 1992, LECET has improved communications and initiated cooperative and harmonious relations between and among representatives of labor and management in the industry and to provide a forum for discussion of matters of mutual interest.
In addition, the fund works to preserve work opportunities, facilitate information exchange, promote both efficiency and training programs, and monitor industry compliance on rules and regulations, and sponsor outreach efforts.
"We are proud to be celebrating 20 years of Minnesota LECET," said Chris Born, co-chairman of LECET and senior superintendent for PCL Construction, of Burnsville, MN. "The organization has done a remarkable job over the years in promoting the benefits of Union construction, training and in developing special programs like the LECET Safety Driven program to further embrace construction safety and training."
"Safe workers are productive workers," said the center's training director, Russell Beyer. "We're here to help Union contractors be successful. It's our mission to stay ahead of changing trends in the construction trades and train our members to be safe and smart on the job. With a growing amount of projects starting and more on the horizon it is of the utmost importance these workers are given all of the proper tools to do their job well and safely"
In just the first eight months of 2012 the Laborers Training Center has provided member workers with more than 88,000 hours of training. "We have built a terrific partnership with the Union contractors," said Beyer. "Due to demand we are bringing back night classes starting in January 2013. This will give our members a distinct edge in the industry."
At the open house the invited contractors and guests will see firsthand how LECET and the training center work together to improve the industry. The program lineup includes remarks from Christopher Engquist, National LECET Executive Director who will congratulate LECET on twenty years of service to Minnesota's construction industry. In addition, a special drawing will be held for seven Laborers Union members, nominated by their employers, for a chance to win the Laborers Annual Award grand prize—a Polaris all-terrain vehicle.
At a Glance:
What: Labors Training Center open house
When: Friday, September 28, 9:30 a.m. to 1 p.m.
Where: Laborers Training Center, east of Interstate 35E off County Road 14 exit, Lino Lakes.
More info: Contact Robb Leer, 612-701-0608 or visit http://www.ltcmn.org.
About the Laborers Training Center
Offering continuing education programs since 1989, the Laborers Training Center provides year-round construction industry vocational training through a full range of classes and apprenticeship programs for its 9,500 participating union members. Affiliated with the Laborers International Union of North America, the center is operated by the non-profit Construction Laborer's Training Fund. A board oversees the center with equal labor and management representation. For more information, visit http://www.ltcmn.org.
About LECET
Minnesota LECET is a non-profit labor/management organization created in 1992 to facilitate the positive relationship between labor and management within the construction industry. Recognizing there are mutual concerns of both labor and management, LECET advocates for training and safety measures while promoting the benefits of Union construction to Minnesota's economy. For more information, visit http://www.mnlecet.org.