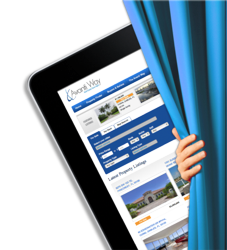 If your website is not capable of capturing the leads that visit, it is, in all honesty, useless.
Miami, FL (PRWEB) September 28, 2012
According to the Buyer Statistics collected by the National Association of Realtors®, 88% of Home Buyers used the Internet as part of their home search, a good number using such popular sites as Realtor.com, Zillow, Trulia and even Movoto as their base of operations - that's why up-to-date IDX Searching capabilities is so crucial for any agent's website. But beyond IDX, there are a whole new set of tech-savvy buyers that require a bit more than just "the basics". That's why, on September 5th 2012, Enrique Teran and Andres Korda, Co-Founders and Managing Directors of Avanti Way, hosted the official launch of Avexsites – their Online Storefronts for Agents - with a Blue Martini Night that included the 10 best website tips for today's Real Estate Agents, because in our digital world, a strong online presence is a Real Estate Agent's most important asset.
TIP 1: Target Your Audience
Often times Real Estate Agents – especially those who are starting out in the industry – want to be everything to everybody. Scaling down that audience, whether it's by a specific target area to a more specific type of buyer or seller, will result in a much better marketing strategy. In this case, less is more, because here you want your website to truly resonate with what makes you an expert in your field. Highlighting that above general real estate news is your starting point. What type of properties is your audience looking for, what passions do you share with them, what expertise will resonate with them? All these things should be included with your audience in mind, and not the other way around. In Avexsites, highlighting certain types of properties or even featuring targeted videos are as easy as clicking a button (a little orange button to be exact).
TIP 2: Create Your Brand
Avanti Way's model is a little different because we feel that the Agent doesn't work for the Broker, the Broker works for that Agent – they are our clients, we work everyday at Avanti to come up with the latest and greatest technology to enable those agents to work simpler, faster, better. But even if you're working at a traditional Real Estate firm, your Branding is your name and your reputation. Make sure that you include those into your website. Adding a unique slogan and a link to video testimonials are a great way to make sure your own "brand" stands out. After all, your most loyal clients would work with you regardless of whose logo is on your business card.
TIP 3: Buy a Domain Name
All of our Avexsites exist under the Avexsites.com url, but we like to encourage all of our agents to purchase their own branded domain name and have that forwarded to their Storefront. The domain name can be a standard yourname.com or a more unique name that includes your farming area within the title – though always double check that someone else isn't already using it by doing a quick Internet search first.
TIP 4: Connect all Social Medias
Another place where "less is more" is definitely in the sphere of Social Media. If you don't like to Blog, use Facebook instead. If you don't like Facebook, use Twitter, etc. But whichever you decide to use, be constant with it, link it and make it prominent on your website. Again, think of where your audience is hanging out, which Social Medias do they use… join them, update them on a timely basis and link them to your site.
TIP 5: Make it Mobile!
Today, just about everyone has a smartphone or is thinking about getting one, so making sure that your site is mobile-friendly is as important as choosing the right domain. Most website designers know this, but for those agents who are going to opt for using more templated sites, finding a template that has a mobile version should be top on their list.
TIP 6: Content is still King
Even if buyers are going to use your site mostly to shop for properties, giving them additional extras like links to more information on neighborhoods, the schools, or even market news form your perspective or original videos with your style and voice – all of these things are little extras that will have your clients coming back for more. Again, Tip #1 still remains true: think about what your audience needs or wants to know, and then give it to them.
TIP 7: Share Properties Right Through Your Site
Connecting your site to various Social Medias so that people can share the properties with each other or even comment and post right through your page can come with a hefty price tag when designing your Real Estate website; some servicers even charge several hundred dollars a month for maintaining that capability. But if you think about it, people are already doing this through Zillow, Realtor.com and other real estate search sites – so having them share the property through your own website will create extra links back to you, no matter where they post or what they send. Avexsites already has this capability built-in, right out of the box. Clients can share, post and even comment using their Social Media profiles, and it all comes back right to the Agent, all of it free, just for Avanti Way professionals.
TIP 8: Blog Participation
If you don't like to write, then choose a Real Estate Blog that you trust and link that within your site. The National Association of Realtors® and even your local branch have great blogs and other website enhancers, including radio shows and widgets that can be added for free to any Agent's website. But if you do like to pen a few words here and there, even if it's just once or twice a month, creating original blog posts that really resonate with your voice, and with what your audience is looking for, can really be a major traffic driver to any site.
TIP 9: Pay Per Click (PPC)
Whether it's Facebook, Google or some other emerging form of Social Media or Search Engine, there's a good chance that their main revenue driver is probably PPC Advertising. You only pay if someone actually clicks through the ad to view your site or post. They can be inexpensive if you set the right limits and stick to a certain budget, and there are plenty of tutorial videos out there to help agents get a better handle of when and how to use them. And yes, they work, but again, it all comes down to Tip #1 – targeting the right audience is more effective and less expensive and trying to reach the whole world.
TIP 10: Lead Capturing & A Great CRM
The last tip is by far not the least, because if your website is not capable of capturing the leads that visit, it is, in all honestly, useless. Having a great Lead Capturing form on the site, and then having a Lead Management system that allows you to effectively follow-up with that Lead are crucial to running a good Real Estate Business.
Needless to say, Avexsites, not only has great Lead Capturing forms, there's even a Live Chat capability added so that your clients can actually chat with someone, in real time, and then that information is passed on to you.
In addition, AVEX - Avanti Way's completely paperless, patent-pending software - is already equipped with Lead Management, Transaction Manager, Listing Manager and a complete Avanti Cloud, including email, calendar and a cloud server. All integrated with Avexsites.
"IDX Search, yeah we have that, we also have Google Maps Search integrated with the street-view option. But now-a-days, that's almost as basic as a web browser." Adds Andres Korda. "To really stand out, you have to have the full package."
"The question that remains," Added Enrique Teran, "is whether agents want to pay for these on their own, which they are free to do, or… whether they can get that, plus a universe of additional tools more, by choosing Avanti Way as their Business Partner in Real Estate."
"The future of Real Estate is virtual, everyone's seeing that now, there are a great number of tools coming out to help the agents sign electronically and transact every detail of their business online, we are super ecstatic that finally the rest of the industry is waking up to that fact." Said Andres.
"But by the way," Added Enrique, "we already have all that. Avanti was born paperless, and as far as we're concerned, that's the way it's going to stay."
For more information about Avanti Way, contact Gloria Rodriguez de los Reyes at (305) 229-1146, or visit: http://www.avantiway.com & http://www.joinavantiway.com