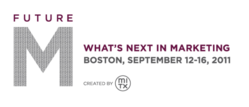 Westwood, MA (PRWEB) September 28, 2012
Wilde Agency announced today that Nancy Harhut, Chief Creative Officer, and Neal Boornazian, President, will be speaking at the FutureM 2012 Conference, which brings hundreds of marketers and marketing enthusiasts to Boston annually to discover what's new in the marketing world and discuss what will be marketing's "next big things". FutureM will be held from October 23 to October 26.
On October 25, Chief Creative Officer Nancy Harhut and President Neal Boornazian will be presenting Using Decision Science & the Psychology of Persuasion to Drive Action at 11 AM, with Aaron Reid at Microsoft's New England Research and Development Center (Microsoft NERD Center) in Kendall Square.
Harhut and Boornazian will be presenting with Aaron Reid on the decision-making tendencies of the population. Their presentation will touch upon new research that proves the automatic, reflexive behaviors of individuals when decisions are being made, as well as discussing emotional behavior drivers that will uncover these automatic behaviors to increase effectiveness of marketing tactics. This presentation will not only focus on the psychological aspects of people, but how to apply human behavior to marketing strategies.
"We are psyched to be presenting again at FutureM," says Harhut. "The marketers who attend are interested in the industry's newest thinking and trends. Their questions and comments make sessions even more dynamic."
To attend: Register with promo code PT-224 and save 20% off your FutureM pass.
About FutureM
FutureM brings a one-of-a-kind experience to Boston this October 23-26. Known as the must-attend event for discovering what's next, MITX's FutureM brings together marketing and technology innovators to contemplate and celebrate the future of Marketing. FutureM is about Marketing with a capital M - integrating traditional marketing, digital marketing, R&D, product development and all other parts of an organization that impact customer engagement and purchasing decisions. FutureM's programs are unique, forward-thinking, and will challenge, integrate and bring to life what tomorrow holds for marketing and businesses in the digital age.
About Wilde Agency
Wilde Agency is the direct and digital agency that combines direct marketing best practices with the science of human behavior to get people to take action. Wilde Agency is a division of Universal Wilde, a nationally recognized leader in direct marketing solutions and personalized communications, including variable data printing, commercial printing, fulfillment and distribution, and mailing services.
For more information, please visit http://www.wildeagency.com or http://www.universalwilde.com.