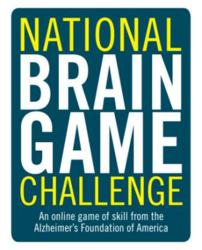 New York, NY (PRWEB) September 27, 2012
The countdown to the showdown among the nation's most avid crossword fans is on as the Alzheimer's Foundation of America's (AFA) 2nd annual National Brain Game Challenge gets ready to kick off on September 30 at 3 p.m. (ET). Contestants will be racing the clock to correctly solve a one-of-a-kind crossword crafted by puzzle king Merl Reagle—and to win $7,000 in total prizes.
Reagle, whose popular Sunday crossword puzzle is syndicated in 45 newspapers, including the Washington Post and Los Angeles Times, has teamed up with AFA for the second straight year to craft the online game of skill as a means of supporting AFA's ongoing efforts to raise awareness of Alzheimer's disease and lifestyle choices that promote brain health.
This time, his interest in the cause is even more personal: Just this year, his mother was diagnosed with Alzheimer's disease. Reagle first got involved after he and his wife, Marie Haley, of Tampa, FL, were caregivers for "1,000 days" for Haley's mother, who had a similar diagnosis.
"The National Brain Game Challenge is the perfect way for me to give back and let the public know about the importance of brain health and, in the process, raise awareness of a disease that has personally affected me not once, but twice," said Reagle, who co-starred in the hit documentary "Wordplay" and has been a character, playing himself, on "The Simpsons."
The contest is open to all individuals 18 and older and is divided into two player categories: "professionals" and "the public." Registration requires a $25 entry fee and is currently open at http://www.alzfdn.org/challenge. Proceeds from the registration fees will support AFA's mission to provide optimal care to individuals with Alzheimer's disease and their families through its programs and services nationwide.
"Reagle understands the plight of millions of Alzheimer's caregivers across the nation today and is using his wordplay gift to challenge and strengthen our minds, and remind us about choices we can make to lead healthier lifestyles and age successfully," said Eric J. Hall, AFA's president and CEO.
Research suggests that regularly engaging in activities that stimulate the brain such as doing crossword puzzles, playing chess or reading may help improve memory and enhance motor skills, and may reduce the risk of Alzheimer's disease, a progressive brain disorder that results in loss of memory, thinking and language skills, and behavioral changes.
Up for grabs is a grand prize of $2,500 in each category, based on speed and accuracy. The "pros" are people who have ever won $200 or more in one or more crossword puzzle tournaments or have earned $200 or more creating crosswords for professional venues, such as newspapers. The "public" are those who have received less than $200 in lifetime crossword-related cash winnings or from creating crosswords for professional venues.
Participants will have online access to the puzzle on September 30 at 3 p.m. (ET) on a players-only Web page, and will have 24 hours to electronically submit their solutions to AFA. Other prizes will also be awarded in both categories. AFA will announce the winners on October 3.
Currently, as many as 5.1 million Americas have been diagnosed with Alzheimer's disease. With advanced age the biggest risk factor, its incidence is rising in line with the nation's aging population.
The Alzheimer's Foundation of America, based in New York, is a national nonprofit organization that unites more than 1,600 member organizations nationwide with the goal of providing optimal care and services to individuals confronting dementia, and to their caregivers and families. Its services include counseling and referrals by licensed social workers via a toll-free hot line, e-mail, Skype, and live chat; educational materials; a free quarterly magazine for caregivers; and professional training. For more information about AFA, call toll-free 866-232-8484 or visit http://www.alzfdn.org.