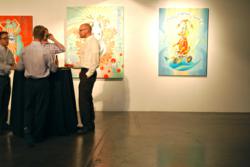 "I always suggest galleries for networking or after work parties. When conversation feels forced or your guests have run out of things to talk about, there is a built in topic of conversation hanging on the wall."
Denver, CO (PRWEB) September 27, 2012
Planning a last minute event on a budget can be stressful, and without time and money it's hard to get creative and offer guests a memorable experience. Venue selection could the answer to the problem.
In the spring and summer months there are many affordable and interesting outdoor venues. But in the fall and winter months the challenge to find the right venue is much greater.
According to Libby Bryant, Founder of the exclusive online venue finder Venue Please, art galleries are a great solution for individuals and small businesses looking for an interesting indoor event venue on a budget.
In general, galleries are focused on art, not renting out their space, so they tend to be more affordable because they don't come with all the services that many of the larger event facilities offer. For the most part, galleries are booked as a space rental only.
But with different types of galleries in every small town and city across the country, they are a real opportunity for people everywhere.
"Galleries are one of the best options for cocktail style events where guests are encouraged to mingle and socialize. In addition to being visually interesting, the artwork acts as a conversation piece that spurs interaction between guests, as well as, the venue itself," says Bryant.
"I always suggest galleries for networking or after work parties. When conversation feels forced or your guests have run out of things to talk about, there is a built in topic of conversation hanging on the wall."
Galleries are especially great for creative and artistic groups and associations.
Brittany Karstrand, the Membership & Communication Coordinator for AIA Colorado recently hosted an event at Walker Fine Art gallery in Denver. She says the organization always makes an effort to seek out interesting spaces for their membership events.
"It's important to us that the Architects are invited to interesting spaces with unique details, history or artwork," she said. "It encourages them to stay involved and attend meetings if we're always switching it up," Karstrand says.
And when using galleries that often swap out their works, it's possible to plan repeat events that feel fresh because the backdrop is always changing.
When looking for a gallery space venue it's important to keep a few things in mind:
Vendors and Services: Ask about what services the gallery provides and if they have a preferred vendor list. If they have a required list it may be a little more costly, but will save you a lot of time and planning.
Hours: Most galleries are only available for private rental afterhours. If you're planning a daytime event a gallery may not be your best option.
Noise: Find out about the noise ordinances in the area for the hours of your event. Galleries in small towns and in residential buildings may have special rules.
Exhibit on Display: While having a space already decorated with artwork can be great – it is important to ask what the exhibit will be and assess if it's appropriate for your audience. This can be more of an issue at modern and contemporary galleries. Surprisingly, this often gets overlooked and can result in offending some guests.
To find a gallery for next event and to check out other venues that Libby recommends visit her company's unique venue showcase and foller her on twitter at @VenuePlease
About Venue Please:
Venue Please is an exclusive online venue finder showcasing unique event spaces with heart. Venue Please's mission is to provide individuals and small businesses with a better tool to help them source unconventional venues, such as: galleries, private residences, farms and more. The company's founder, Libby Bryant, believes that venues with a story to tell offer a more memorable experience for guests than generic meeting or ballroom spaces. Venue Please only features venues that primarily function as something other than an event space - or have at one point in time. To apply to be a part of the special showcase or to find a unique venue for your next event, visit http://www.venueplease.com.
Contact:
Libby Bryant, Founder & Editor-in-Chief
Venue Please, LLC.
720-708-5164
http://venueplease.com