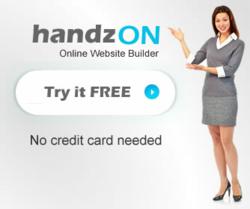 Resell Handzon Website Builder and earn residual income on a monthly basis.
San Francisco, CA (PRWEB) September 29, 2012
Handzon web site builder launches a white label [bring your own branding] affiliate program allowing businesses, hosting companies and web site designers to earn residual income on a monthly basis for reselling the Handzon Website Software. There are two affiliate models allowing everyone to participate...
Free - The standard affiliate program, using affiliate banners and sign up links. The free version earns 20% monthly income from every account for up to 1 year. Free affiliates can download banners and sign up links with a 90 day cookie.
Premium - A premium program at $5.99, allows Premium affiliates to create customized web sites, customize signup forms and tutorials with videos to grow their customer own customer base. Premium affiliates earn 30% for every customer on a monthly basis, ongoing for the life of the paid affiliate account.
These two affiliate programs allow businesses across the Internet to offer powerful HTML 5 web site editing, using drag and drop software with hosting included. In addition, Handzon also offers a free web site version that allows users to create web sites at no charge and nonprofits are always free.
Signing up for the Handzon website affiliate program is a simple 5 minute process. For premium affiliates, once an affiliate account is approved, the web site can then be marketed using the powerful search engine optimization tools available within the software. This powerful residual model allows continuous monthly potential income at both levels.
To sign up for the affiliate program, go to https://www.handzon.com/billing/register.php
About Handzon
Handzon has provided web site building services for web site designers, hosting companies and do it yourself businesses in countries worldwide since 2001. With the launch of its latest HTML 5 web site builder, Handzon again redefines how web sites are built. Sign up for your free web site at http://www.handzon.com