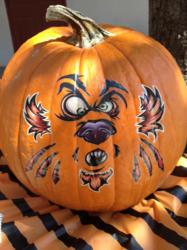 Make sure that your house is the coolest house on the block. Hand out Halloween temporary tattoos to the neighborhood kids!
Tucson, AZ (PRWEB) September 27, 2012
Tattoo Manufacturing is the world's largest temporary tattoo manufacturer. So, it should come as no surprise that Halloween is one of the company's busiest seasons. To help kids, parents, and everyone in between create a unique Halloween without breaking the bank, Tattoo Manufacturing has brainstormed a list of Halloween craft and costume ideas.
1. Skip the candy – give temporary tattoos to trick-or-treaters instead!
Make sure that your house is the coolest house on the block. Hand out Halloween temporary tattoos to the neighborhood kids. (Don't worry, we're positive they'll get their candy fill elsewhere.) Stock up on assorted Halloween tattoos at tattoosales.com.
2. Create a realistic and scary zombie costume
Need a quick (and creepy) costume? Cover your face and arms in fake scar and wound temporary tattoos and tear slashes in an old T-shirt. Instant zombie!
3. Set up a temporary tattoo station at your fall festival or party
If you're looking for an activity for your upcoming autumn event, create a temporary tattoo station. All you need: a collection of tattoos, plus a water bottle and cloth for tattoo application. Then, watch the kids (and adults!) line up to get tatted.
4. Stay safe in the dark with glow-in-the-dark tattoos
If you're sending your kids out into the night on Halloween, make sure that they can be seen. Arm them with a flashlight and an arm full of glow-in-the-dark tattoos. Glow tattoos are available in fun Halloween designs like bats, spider webs, and skulls.
5. Give your pumpkin a funny face – without the goopy mess
The Tattoo Manufacturing team has been trolling Pinterest for creative ways to decorate pumpkins. We love paint and ribbons, but our favorite way to give a jack-o-lantern some charm is with temporary tattoos. With tattoos, you can skip the messy scooping and carving. All you'll need to do is choose your design and decide where to place your pumpkin's face!
6. Apply a five-minute Day of the Dead mask
If there's a day we love more than Halloween, it's Day of the Dead (Día de los Muertos). Create an amazing sugar skull look with easy-to-apply calavera temporary tattoos. Unlike face paint, Day of the Dead face tattoos go on quickly and won't rub off on clothes.
7. Add a face full of warts to your witch costume
Tattoo Manufacturing has a fun addition to the standard black hats and broomsticks. Add a smattering of witchy warts to your costume. In red and orange, these "warts" are fun and easy to remove when Halloween is over.
For even more Halloween tricks and treats, watch our Halloween video.
About Tattoo Manufacturing
Tattoo Manufacturing, a division of TMI Acquisition LLC, is the largest manufacturer of temporary tattoos in the world. The company designs and manufactures all of its products in Tucson, AZ. Products are non-toxic, hypoallergenic, use FDA certified colorants and comply with CSPC/CPSIA and ASTM requirements. All products exceed US, Canadian and EU safety standards. The company's products have a worldwide reputation for quality. Visit http://www.tattoosales.com or call 1-800-747-8016 for more information.