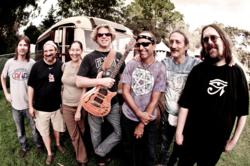 Quite possibly the most talented and accomplished tribute band out there... they've definitely mastered their inspiration's vagabond nature." RollingStone.com
Napa, CA (PRWEB) September 27, 2012
Presenting its critically acclaimed live show to Deadheads both young and old, Dark Star Orchestra is set to perform Grateful Dead's music live in concert by recreating historic shows. Continuing a long and strange trip since humble beginnings over a decade ago, Dark Star Orchestra's determined commitment to 'raising the Dead' has drawn nationwide attention:
"Quite possibly the most talented and accomplished tribute band out there... they've definitely mastered their inspiration's vagabond nature." – RollingStone.com "Recreates the Dead concert experience with uncanny verisimilitude... In fact, Dark Star Orchestra often sounds more like the Dead than the Dead sometimes did." – Chicago Tribune "The hottest Grateful Dead tribute act. A cover band for people who don't like cover bands." – Washington Post
Critics aren't the only ones singing Dark Star Orchestra's praises. Numerous original members of the Grateful Dead have played alongside DSO and have had this to say: "A couple of times when I had my back to John onstage and he started to sing, I had this weird sense that it was Jerry." – Bob Weir, Grateful Dead co-founder/vocalist/guitarist, frequent DSO guest .
Offering a continually evolving artistic outlet within the Grateful Dead's musical canon, members of Dark Star Orchestra seek out the unique style of each performance era and offer their own interpretations and improvisations at each show. Using entire set lists from the Grateful Dead's decades of touring as a launching pad, Dark Star Orchestra recreates song for song performances straight from the set list of these historic shows.
Dark Star Orchestra isn't a cover band. Its shows are not even meant as tributes. What Dark Star Orchestra tirelessly strives for and achieves is a continuation of the spirit of what has now become over forty years of the Grateful Dead's timeless music.
Tickets for An Evening with Dark Star Orchestra are $30/35. They are on sale now and can be purchased through the theatre website at http://www.uptowntheatrenapa.com, at Ticketmaster (http://www.ticketmaster.com) or at the theatre box office (please call 707.259.0123 ext. 6 for hours). To find out more, please visit http://www.uptowntheatrenapa.com.
The Uptown Theatre Napa is downtown's ultimate destination for live concerts. Nestled in the famed West End district, this stunningly restored art deco masterpiece showcases only the finest acts, featuring music, comedy and more. An historic landmark, the Uptown offers a phenomenal, intimate live show experience, with excellent site lines and world class sound and lighting. As concert venues go, this is the place to be. Every seat is a great seat so buy concert tickets now!