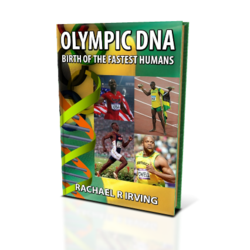 (PRWEB) September 28, 2012
Why are certain athletes from particular regions so much faster than other world class athletes? Is there such a thing as the 'Sprint Gene'? Does your DNA hold these secrets?
There are over 200 countries that enter the Olympics every four years. Amongst them is one of the smallest nations – Jamaica. This island with a population of only 2.7 million has been responsible for consistently setting world records and winning Olympic gold medals in athletics since way back in 1948 until the latest Olympics London 2012.
This book is based on research from the University of West Indies, University of Glasgow and universities in USA and Australia. The research investigated the genetics of a number of world class sprinters and looks at why Jamaica produces the fastest athletes in the world.
Rachael Irvin PHD has been able to access the DNA of the Olympic champion and worlds fastest human, Usain Bolt as well as many other world champions and Olympic Gold medalists.
Follow Rachael's journey as she asks the question – Is there such a thing as the 'Sprint Gene' ? and why Usain Bolt, Yohan Blake, Veronica Campbell-Brown amongst others are the fastest sprinters in the world, and all come from Jamaica.
Rachael Irving, PHD. Is senior Research Fellow in the Faculty of Medical Sciences at the University of the West Indies, Mona Campus and the editor (with Vilma Charlton) of Jamaican Gold: Jamaican Sprinters. She lives in Kingston, Jamaica