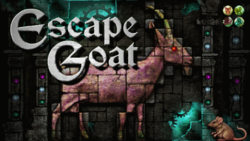 Wilmington, DE (PRWEB) September 27, 2012
Two weeks ago IndieGameStand (http://www.indiegamestand.com) was introduced, a service that will offer a handpicked indie game for incredible "pay what you want" bargains every 96 hours. The site officially launches today, and anyone who wants a great deal on MagicalTimeBean's Escape Goat better get over there, because the countdown clock is ticking...
Escape Goat finds a headstrong goat and his crafty mouse pal confined in the Prison of Agnus for the crime of witchcraft -- help them outwit the dungeon's infernal traps, puzzles, and machinery to escape! This creative puzzle-platformer boasts nostalgic 8-bit graphics, a catchy soundtrack, and clever physics-based gameplay spanning 100 unique rooms. Plus, a built-in a level editor lets players build and share their own maniacal creations.
As with all IndieGameStand featured games, Escape Goat customers get to decide how much to pay for the game. Those who beat the average price will get a free MP3 soundtrack, and anyone who pays a dollar or more receives a code to unlock the game on Desura. Developer MagicalTimeBean has selected the American Red Cross to receive 10% of the proceeds from this 96-hour sale.
With today's Escape Goat offer, IndieGameStand kicks off a cycle that will restart every four days as another high-quality indie game takes the spotlight. The service aims to become a preferred platform for independent developers to promote their wares by providing unique ways to reach customers and build up a fanbase. In only two weeks, more than 12,000 gamers have registered with the service, and IndieGameStand is currently talking to 100+ developers about featuring their games.
To learn more about IndieGameStand and get Escape Goat for whatever you choose to pay, visit http://www.indiegamestand.com. IndieGameStand's next featured game will be revealed September 30, at 12:01am Eastern time (04:01 GMT).
About Indie Game Stand
Founded in 2012, IndieGameStand.com is a new, low-barrier of entry way for indie developers to promote their games and be included in a dynamic indie gaming bundle. Indie Game Stand hand-selects every game that is offered on our service. Each game gets four days to shine on our homepage in a "pay what you want" sale. Any games purchased from Indie Game Stand will be yours to keep forever and stored in your game wallet on our site. Learn more at http://www.indiegamestand.com.