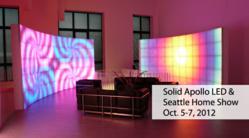 North Seattle LED Lighting Company Solid Apollo is excited to display new LED Lighting Products at the Seattle Home Show at Century Link Field, October 5th through the 7th 2012.
Seattle,WA (PRWEB) September 26, 2012
Armed with dynamic new LED Products and a new LED print catalog, Solid Apollo LED is extremely excited to display LED Control Systems and LED Lighting Products for consumer purchase. Do not miss the opportunity to play with and explore extremely progressive LED Lighting Products & Control Systems as well as gain valuable knowledge about the use and installation of LED Products.
The Everett Fall Home Show begins Friday September 28th and runs until the 30th, 2012. Anyone that would like to attend for free courtesy of Solid Apollo LED, please visit http://www.westlakepromo.com/show-everett-fall-home/signup/fall-signup.php for a Free Entry Pass. Tickets are going fast.
The Seattle Home Show begins October 5th and runs until October 7th, 2012. The show is in its 74th year and is consistently well attended. The Seattle Home Show has a long and illustrious history of working with the Seattle Community to introduce new Home Products before most are available on the market. It has always been the place to go to view new inventions and trends for the next year. Be in on the ground floor of innovation and visit the Seattle Home Show. Take home a new generation of products designed to make life in the home more comfortable.
Solid Apollo LED has Free Entry Passes available for the Seattle Home Show for those who read this release and are interested in visiting on Solid Apollo's dime. Simply go to Will-Call at the Seattle Home Show at Century Link Field Oct 5th-7th and tell them Solid Apollo LED has a reserved Entry Pass and gain free access to the 2012 Seattle Home Show. Tickets are limited and it is first-come, first-serve, so get to the show early.
Solid Apollo LED is committed to the concept that money invested in the home should be spent efficiently to get the most out of every dollar. This means purchasing well made products that last a long time and retain their value as well as look amazing for years to come. Solid Apollo provides customers with fantastic new ideas and designs depicting different options when installing LED lighting to make life in the home easier and more enjoyable. Solid Apollo's LED products can last for more than 10 years if used properly. That means no buying or changing another light bulb for 10 years or more!
Now, it is simple to add safety and visibility to a dark area with Yard/Garden LED Lighting, improve the visibility at night with LED Deck Lighting or make guests feel welcome by adding Kitchen Under-Cabinet LED Lighting, the possibilities are limitless! Install LED Strip Lighting and make longer runs in narrow architectural coves and crown moulding for brilliant LED accent lighting.
Be the first to see all these new LED Lighting Products at Century Link Field for the Seattle Home Show Oct 5th-7th along with hundreds of other vendors exhibiting brand new products and designs for implementation in the home. Don't miss this exciting opportunity to view home improvement products for 2013!
LED Lighting is very versatile and Solid Apollo carries products for every job LED's are capable of tackling so if any questions arise, Solid Apollo LED is available for consultation on a toll free number. If calling from Washington State or the Seattle area, dial 425-582-7533 for any questions about the 2012 Seattle Home Show, the 2012 Everett Home Show, or to request a copy of the printed LED products catalog.
About Solid Apollo.com: Solid Apollo is a cutting edge LED lighting company which designs produces and distributes a wide range of High Quality LED Lighting Products and lighting solutions to meet today's on-going, new generation, lighting demands. For more information and to order online, visit Solid Apollo LED at http://www.solidapollo.com or call toll free 866-592-3873.