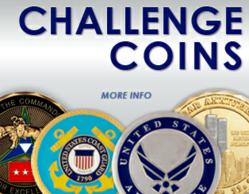 Challenge coins have become valuable marketing tools for many businesses and organizations
(PRWEB) September 28, 2012
A Challenge Coin is a small two sided coin or medallion that bears the logo or insignia of a particular organization. The purpose of these coins is to show affiliation or membership with an entity such a military unit, club, law enforcement, fire department, and so on. For many years now challenge coins have been a prized collectable exchanged between members of the military and those in their inner circle. Over the past 5-10 years they have grown in popularity as their use has extended beyond the armed services and into all facets of society.
A recent study performed by PinMart, Inc. concluded that sales of Challenge Coins have risen 46% from 2008-2011. A survey of customers has also shown that 64% intend on increasing their use of coins in 2012 and beyond. A simple search online will return many examples of recent news related to the use of challenge coins:

On September 17th U.S. Secretary of Defense Leon Panetta gave "Challenge Coins" to U.S. military personnel stationed at Yokota Air Base in Yokota, Japan.
On September 11th President Obama placed ten presidential challenge coins on a gravestone which honors the 10 members of the military and DEA who were killed in a helicopter crash in Afghanistan on October 26, 2009.
August 28th Activision, maker of Call of Duty Black Ops 2; will have a special edition that includes among other items, a challenge coin.
According to PinMart…"When our customers inquire about making custom coins they often reference one they have encountered at a military event or seen on news coverage related to the military or armed services". PinMart has been making challenge coins for more than 40 years, however, until recently they have been only a small portion of sales revenue. In the past 4 years that has changed; PinMart now estimates that 20% of revenue is related to Custom Challenge Coins or stock challenge coin designs.
PinMart, Inc. is a privately held company located in Mount Prospect Illinois, a suburb of Chicago, specializing in the design and manufacture of metal insignias and emblematic jewelry, both domestically and abroad. PinMart sells products via its online store and offers both stock designs ready to ship and custom desings made to order. PinMart has taken advantage of its well positioned internet presence and now boast a client list that includes over 300 of the Fortune 500 companies